DO-IT Center's Neuroscience for Neurodiverse Learners Summer Program Featured In Seattle's Child Magazine
Wednesday, August 30, 2023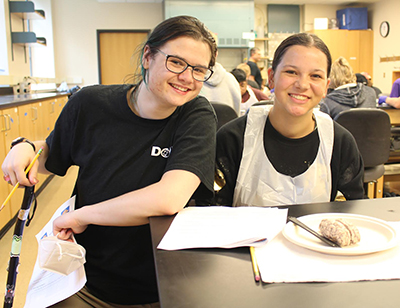 The DO-IT Center's Neuroscience for Neurodiverse Learners (NNL) summer program recently gained recognition in Seattle's Child Magazine. The article highlights Piper Hawley who, after discovering a passion for neuroscience in third grade, later attended the NNL program in high school. Their journey continued as they became an NNL program assistant, mentored students, participated in panels, and co-authored abstracts with Dr. Chudler, an Emmy Award-winning neuroscientist and NNL Education Director. Now in college, Piper is pursuing a major in neuroscience, exemplifying how embracing neurodiversity can lead to success in education and career pursuits. 
NNL aims to support neurodiverse teenagers interested in STEM fields by providing education, networking opportunities, and self-advocacy skills. The program focuses on universal design principles, prioritizing accessibility, and inclusivity within the neuroscience field. It offers a hybrid format with both in-person and virtual activities, catering to students' diverse needs, including those with anxiety or sensory challenges. NNL emphasizes strengths rather than limitations, teaching students how neurodiversity itself can be a valuable asset, especially in STEM fields where different perspectives are essential for problem-solving.
The heart of NNL's impact lies in its 10-day summer camp, where students find a welcoming and accepting community among peers who share their neurodiverse experiences. Many neurodivergent individuals often hide their disabilities, making it exhausting to pretend otherwise, but NNL fosters an environment where authenticity is celebrated.
It's an honor for the NNL program and Piper's achievements to be featured in Seattle's Child Magazine. This recognition is a testament to the DO-IT Center's advocacy efforts on behalf of neurodiverse learners in both high school and college.