DO-IT Did It at Camp Courage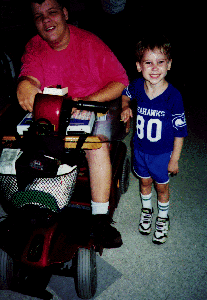 DO-IT Scholar, Anthony, and Travis Burgstahler laugh it up at Camp Courage.
My week as a computer lab staffer at Camp Courage in Maple Lake, Minnesota was an interesting experience. DO-IT sponsored a session at the summer camp from July 10-18. Fourteen "DO-IT Courage Campers" learned the basics of e-mail, gopher, telnet, FTP, and the World Wide Web and how to transition to and be successful in college and careers. They communicated via email with DO-IT Scholars and Mentors. The program was taught primarily by Sheryl Burgstahler (director, DO-IT) and Rick Light (a computer, math, physics, and chemistry teacher in the Woodbury School District). Guest speakers included Connie Light, on the admissions staff at the University of Wisconsin-River Falls, talking about getting into college; Dr. Dave Burgstahler, associate professor of Accounting at the University of Washington, suggesting ways to work with faculty members and succeed in college; and Roger Upcraft, Camp Courage administrator, discussing strategies for getting and keeping a job.
Disabilities represented by the DO-IT Courage Campers in this session included blindness, cerebral palsy, muscular dystrophy, and other mobility impairments. Campers ranged in age from 13 to 19 and came from Minnesota, North Dakota, South Dakota and Wisconsin.
Phase II DO-IT Scholar Anthony came from North Dakota to assist me as a student helper and was a big help. He has been a regular camper at Camp Courage Before.
The DO-IT Scholars program costs a lot of money. The impact of the program -- to educate students with disabilities in science, engineering, mathematics, and the Internet -- is extended by featuring aspects of the program like Internet training and college preparation activities at different locations such as Camp Courage. We hope to do this again!
The program was a big success, with DO-IT Courage Campers learning the basic lessons and some excelling quickly through the program beyond our lessons. The only unfortunate thing is that some of these kids may go home and not be able to get back on the 'Net for quite some time to use the things they've learned here. The DO-IT Scholars are lucky!
Unlike the DO-IT Scholars program, participants in the DO-IT Camp Courage session used the computers in camp, but didn't take them home or maintain their Internet accounts after the session ended. We look forward to repeating this program next year and hope that we can find ways for campers to access permanent accounts.