DO-IT Goes to Colorado: New DO-IT Video Released
There's nothing quite like Colorado in November. Snow blankets the nearby Rocky Mountains, but skies tend to be bright blue and temperatures warm. In 2012, I traveled to Colorado for two consecutive conferences, the EDUCAUSE Annual Conference (https://events.educause.edu/annual-conference) in Denver, immediately followed by Accessing Higher Ground (www.accessinghigherground.org) in Westminster.
EDUCAUSE is a nonprofit association of information technology (IT) leaders and professionals in higher education. Its membership includes staff and faculty from over 1,800 colleges and universities, and the national conference attracts thousands of people (the 2012 conference had 4,528 attendees). DO-IT has been active at EDUCAUSE for more than twenty years, during which several IT leaders have emerged as outspoken champions for accessibility, talking publicly about the need for more accessible IT and for higher education institutions to take a stronger position in demanding that IT be usable by everyone.
In 2012, the AccessComputing project, a partnership between DO-IT and the UW Department of Computer Science and Engineering, produced a video in which several of these outspoken IT leaders were joined by university presidents and chancellors in sharing their thoughts and perspectives regarding IT accessibility. The video's premiere was one of the highlights of the 2012 EDUCAUSE conference.
The video, IT Accessibility: What Campus Leaders Have to Say, features a dozen campus leaders, including University of Washington president Michael Young. According to President Young, "What the university offers and makes available has to be offered to everybody. We cannot afford to waste the talents or the brilliance or the minds of anybody, and making things accessible allows everybody to engage in the university."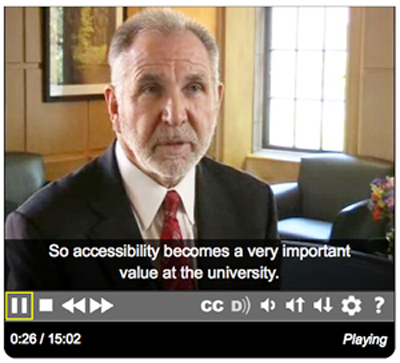 Some of the video's participants were on hand for the EDUCAUSE premiere. They offered remarks and answered questions about the importance of building and buying accessible technology. The video and event were covered in The Chronicle of Higher Education (https://www.chronicle.com/blogs/wiredcampus/campus-leaders-speak-out-on-value-of-keeping-tech-accessible) and provided the stimulus for EDUCAUSE president Diana Oblinger to issue a call for senior higher education leaders to "begin a dialogue on how their institutions can more effectively achieve IT accessibility" (www.educause.edu/blogs/dianao/role-campus-leadership-ensuring-it-accessibility).
After an exciting week at EDUCAUSE, I traveled a few miles north to Westminster, Colorado for Accessing Higher Ground (AHG), the "Accessible Media, Web and Technology Conference." This was the 15th Anniversary of AHG, and DO-IT has been attending since the beginning. AHG is a much smaller conference than EDUCAUSE, attracting hundreds of attendees rather than thousands, but its focus is a perfect fit for the work that DO-IT does. Most attendees play some role in assuring that higher education institutions are accessible, particularly when it comes to technology access.
At AHG, the new Campus Leaders video once again took center stage. It was featured during a keynote luncheon, after which I facilitated a panel discussion regarding some of the ideas that were raised by campus leaders in the video. In particular, Dr. Gerry Hanley, senior director of Academic Technology Services in the California State University Chancellor's Office, says this in the video: "Making accessibility a priority in [vendors'] development roadmap is going to be driven by the market demand. And if an institution never says a word, the vendor isn't going to do anything about it. So if we begin to communicate our demands collectively, then the vendor will recognize the market value of accessibility." The panelists, representing five higher education institutions plus the nonprofit organization ATHEN (Access Technology Higher Education Network), discussed Dr. Hanley's quote and shared their own ideas and strategies that conference attendees could apply moving forward.
Everyone has a role to play in making technology accessible. It's important to have higher education leaders supporting that goal and the effort required to reach it. But it's also important for everyone else—staff, faculty, students, vendors, advocates, elected officials, and countless others—to consider ways that they can help to improve technology accessibility. One of the simplest things we all can do is always ask, "is this accessible-" any time we encounter a new website, software application, device, or product. The more often we all ask that question, especially if we ask it aloud, the more likely it is to finally make a difference. After DO-IT's two weeks in Colorado, more and more people are asking that question.
You can see the Campus Leaders video on YouTube as well as the DO-IT Video website at www.uw.edu/doit/video/itaccess.