DO-IT Helps to Close the Gap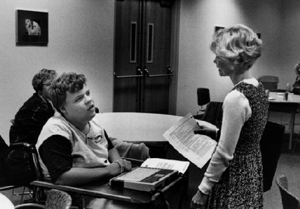 Phase III Scholar Anthony with Director Sheryl Burgstahler discuss the DO-IT summer schedule.
Dan Comden, Anthony (Scholar from North Dakota), and I recently attended a Closing the Gap conference on computer technology for people with disabilities in Minneapolis, MN. I will share a few thoughts about the conference and then Anthony will fill you in on the two presentations delivered by DO-IT (see related articles). For those of you who haven't met Anthony, he has cerebral palsy, is a wheelchair-user, and uses a computer-based voice system (Liberator) to speak. He composed a speech ahead of time and then answered questions. The wonders of technology! Being able to speak with your own voice is no longer a prerequisite for being a public speaker.
The conference was inspirational and overwhelming. I have been going to this conference for about ten years. This year is the thirteenth for this international event. Things have changed dramatically over the last few years. It used to be a room of tables of small vendors, often with products produced from garages and spare rooms in homes. Often a product was developed in response to the need of a child, other relative or friend with a disability. As a visitor, I was usually looking for any solution to specific access problems: I didn't expect bells and whistles.
...and, now...the huge exhibitors' floor is full of professional booths with almost any product you can imagine...there were seven different companies with screen readers for Windows! Products ranged from brightly colored wheelchairs that could be operated from a standing (with support) or seated position for very young children; educational software for children with cognitive impairments (in several languages!); a voice output bar code reader that could be used by blind people who want to know the contents of products marked with bar code...or who want to create their own bar code labels for files, disks, etc., and be able to read them later; a portable closed circuit TV for enlarging text of books; environmental control units for individuals with no use of their hands; music systems for children with disabilities; you name it, it was there.
A large number of people with disabilities who are exhibitors and attendees at the Closing the Gap conference. On Saturday it is open to the public, so lots of children show up with their parents.
This is a conference worth attending if you want to see a lot of adaptive technology all at once. It takes place in Minneapolis each October. Closing the Gap also produces a newsletter and resource directory that includes companies and organizations that sell and support adaptive computer technology for people with disabilities. Contact Closing the Gap, P.O. Box 68, Henderson, MN 56044 (612) 248-3294; FAX (612) 248-3810.