DO-IT Hosts Networking Event in Vancouver, Washington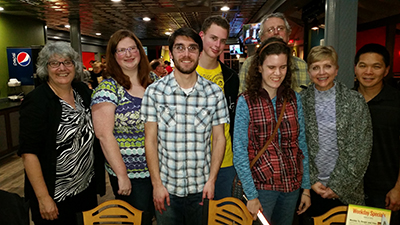 Four Scholars, Sam, '08, Max, '15, Abby, '09, (pictured in center), and Mimi, '99, (not pictured) attended the Vancouver DO-IT Networking Event.
Once a quarter, DO-IT hosts a networking event in Seattle, inviting all of their participants to reconnect in person and meet new Scholars, Mentors, Ambassadors, and staff. Parents and family of Scholars are also invited. DO-IT also often hosts a concurrent gathering in Spokane, including those on the east side of the state who couldn't otherwise make it to Seattle. We also ask participants if there is any interest in hosting an event in other areas; this fall, multiple requests came from Southwest Washington, resulting in a networking event held in Vancouver, WA.
Ten people (participants and their families) came to the event in October. Scholars from the same area had a chance to meet one another and make local connections. Most of these Scholars had never had the opportunity to meet each other, even though they lived in the same area. It offered a great opportunity for a 1999 Ambassador to meet a 2015 Scholar.
While we had pizza, Scholars discussed their interests and hobbies and made plans to get together again, both with and without a DO-IT sponsored event. They all hoped to have another networking event in the winter.