DO-IT in Malaysia!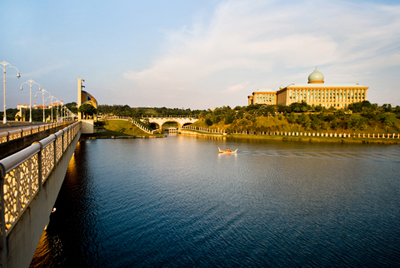 A view of

Putrajaya

Lake in Malaysia.
A grant from the Malaysian government and other contributions support DO-IT Malaysia, a replication of the DO-IT Scholar program. Like the DO-IT Scholar program in Seattle and Japan, DO-IT Malaysia serves to increase the successful participation of individuals with disabilities in challenging academic programs and careers, using technology as an empowering tool.
For two Holiday Camps that took place in 2012 and 2013, DO-IT Malaysia leaders have been working with ten Scholars to prepare them for postsecondary studies, careers, independent living, and leadership roles in society. Activities at Holiday Camp included self-reflecting, speaking up with confidence, building self esteem, achieving personal success, hearing from role models with disabilities, team building, field trips, enhancing creativity, art therapy, financial planning, book sharing, and journal-writing.
Year-round, DO-IT Malaysia Scholars participate in "internetworking," mentoring, peer support, and work-based learning. Scholars communicate year-round on Facebook. An e-group for DO-IT parents has also been established. As with other DO-IT replications, such efforts are expected to result in more people with disabilities earning college degrees and employed in challenging fields and enhancing these fields with the talents and perspectives of this underrepresented group.
For information about how you can replicate DO-IT practices in the United States or internationally, consult DO-IT International Initiative