DO-IT Mentor Profile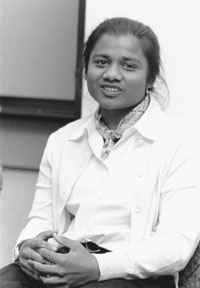 Mentor Minda Dentler
My name is Minda Dentler and I am a sophomore at the University of Washington. Originally from India, I contracted polio at an early age. I was adopted into an American family where I was able to get the medical treatment necessary so I can walk with leg braces and crutches.
I have been involved with the DO-IT disability community for almost two years now. This past summer I was fortunate to have obtained an internship with the President's Committee on Employment of People with Disabilities in Washington, D.C. There I worked closely with the project manager for the employer subcommittee, writing and developing marketing plans for small business hiring people with mental and physical disabilities. Through this valuable experience I was selected to attend a unique conference targeted for leaders in the disability community in Washington, D.C. in March. At this conference we discussed ways to empower persons with disabilities in our country today. One way I hope to show this empowerment is through an internship I obtained at the White House this summer. By demonstrating to others that my disability does not hinder what I do, perhaps I can help them to see that people with disabilities are capable of many jobs.
I am looking forward to next year as I will be studying abroad for the full academic year in Madrid, Spain. My interests in international business have stemmed from an early age and finally I will be able to live out my longtime dream of studying abroad and learning about another culture. I plan on honing my Spanish skills to complete my minor requirements. In addition, I hope to obtain an internship with a Spanish business. This will be an invaluable experience that will help me obtain a future career with an international business firm.
When, and if, I have free time, I enjoy traveling, playing the piano, swimming, or hanging out with my friends. :)