The DO-IT Network
This spring the DO-IT family gathered for an evening of networking. Participants in all of DO-IT's programs were invited to join us in Seattle and Pasco. The turnout was fabulous. We saw the video debut of profiles of DO-IT Scholars Maria, Nate, Mack, Alexandra, and Heidi. You can view them online at www.washington.edu/doit/videos/index.php. We also heard from AccessSTEM and AccessComputing participants about their academic and work-based learning experiences.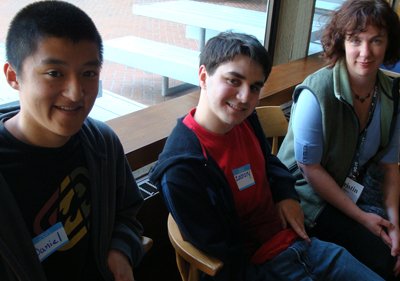 Kayla Brown, Bellevue College student, spoke about her interest in psychology and her experience as an AccessSTEM Intern at a local non-profit, as well as her experience working for City Year that also helped fund her education.
Alexandra MacKenzie, UW senior in biochemistry and AccessSTEM Intern, talked about her work in several laboratories and how she funded much of her education through grants.
Noah Seidel, sophomore at the UW and AccessComputing Intern, spoke about his experiences working on computing-based projects, including an electronic photo directory and Second Life virtual reality.
Heidi Wangelin, a freshman at Cascadia Community College, spoke about her interest in science libraries and her upcoming paid AccessSTEM internship at NOAA (National Oceanic and Atmospheric Administration) in their science library.
There was also plenty of time to network and reconnect; I even saw a game of Apples to Apples! We hope that you will join us for our next networking event in October 2009.