DO-IT Partners with Emerald City Rotary in Career Workshop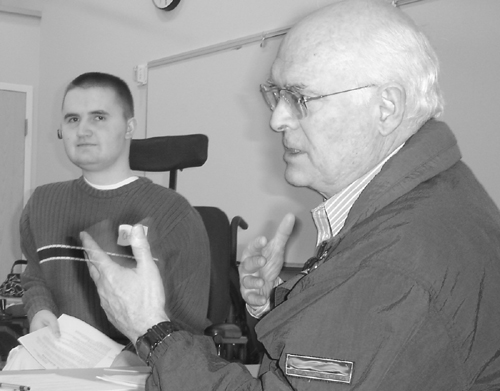 DO-IT Ambassador, Chris, at the Rotary Career workshop
Last month, students from DO-IT participated in a career workshop hosted by the Emerald City Rotary on the University of Washington campus. The goal of the workshop was to refine students' interviewing skills as well as provide them with information about the hiring process.
During the workshop Dr. Robert Fraser presented topics including when to disclose a disability to a future employer, proper questions to ask during the interviewing process, and appropriate follow-up. In Dr. Fraser's presentation, he stressed the importance of displaying your abilities rather than limitations as well the significance of preparing ahead of time. Before going to an interview, the interviewee should research the company or position. A great way of gathering this information, as Dr. Fraser pointed out, is through an informational interview where the interviewee's primary intention is gathering information and establishing their presence with the company. Common questions such as, "What would a typical work day entail?" are excellent ways to collect information about the position and provide essential information that can be used at the formal interview.
Scott Bellman and Tami Tidwell from DO-IT presented a variety of topics ranging from accommodations and when to disclose your disability to interviewing tips and follow-up procedures. Scott noted that at any point during the process of obtaining a job (the first interview, filling out the paperwork, or at the time of the offer), the person being interviewed has the right to ask for accommodations.
After receiving interview tips from the different presenters, it was time to put what we had learned to the test with mock interviews with the Rotary members. Each member of the rotary was grouped with students interested in similar fields. The Rotary members were given copies of student resumes and interviewed participants based on the types of position they desired. Once the interview was complete, the small group of students and the Rotary member discussed the strengths and weaknesses and offered ways of improving the interview. As a group, we decided that having strong questions for the interviewer, such as, "What attributes have made others successful in this field?" were essential. However, if the position no longer seems right for you or the interview has not gone as well as expected, don't be afraid to ask for a referral.
At the end of the workshop, in true DO-IT style, there was a networking lunch with pizza, salad, and drinks. Overall, I found that this workshop was quite informative. I used the skills I learned in an interview later that week. I would like to thank all those who participated in the workshop, especially Bill Poole, Dr. Fraser, Jim Bittner, and Debby Seaman from the Emerald City Rotary.