DO-IT Profiles
Here's your chance to learn more about the participants in DO-IT.

DO-IT Scholar Jessie.
DO-IT Scholar Profile
by Jessie
I am now a Phase II Scholar. I attended the 1998 Summer Study. I live in Seattle, where I go to high school. My disability is dyslexia and ADD (Attention Deficit Disorder). I have struggled my entire life with dyslexia and was recently diagnosed with ADD. I am determined to succeed. In my free time, after studying and homework, I take ballet classes at Cornish college of the arts. In the summer, I enjoy sailing and in the winter, downhill skiing. I also run cross-country and track for my school. I love traveling, any kind of dance (however I am somewhat partial to avant garde), foreign languages and fashion. Of course I am totally into computers and new technology, because they are my life raft academically.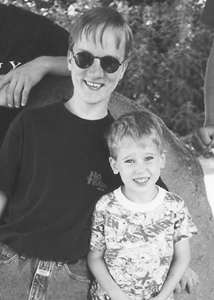 DO-IT Ambassador Travis.
DO-IT Ambassador Profile
by Travis
Hi, my name is Travis and I just wanted to introduce/re-introduce myself. I joined the DO-IT program as a DO-IT Scholar back in 1994 when I was a junior in high school. I am originally from Monteview, Idaho. I graduated from high school, and went to a year of college at Utah State University in Logan, Utah. From August 1996 - 1998 I took a two-year hiatus from school and went on a mission for my church, the Church of Jesus Christ of Latter-day Saints. I went to Oklahoma City. I'm back in school now, in my sophomore year, studying Computer Science. I am adjusting back to school work. It is difficult, but I'm doing my best. My disability is I guess three-fold. I have orthopedic problems with my ankles, and wear ankle braces. I also have what might be termed Achondroplasia, a form of dwarfism. There are a lot of other things that limit me physically and health-wise. I can't keep up with everyone, I get tired easy, but life is fun. slt5v@cc.usu.edu
DO-IT Pal Profile
by Alani
My name is Alani and I am a high school junior in Idaho. I was born in Sandpoint and have always lived in Idaho with my parents and little brother. At school this year I have a full schedule with classes like biology II, math analysis (pre-calc), A.P. United States history, and honors English III. I am interested in the sciences, most specifically biology. Recently I have also wanted to learn theology and anthropology, though I am undecided as to what field I want to have a career in. After school every day I work at Panhandle State Bank in the bookkeeping department. Also, I enjoy volunteering for the local animal shelter and helping the animals there. In my spare time I like to read, watch TV and movies, be with my friends, and in the summer go biking, hiking, or swimming at one of the beaches nearby. I have CMT (Charcot-Marie-Tooth) muscular dystrophy and have attended MDA Camp Roger Larson for seven years now. It is always a joy to be at camp! Next year I hope to be a counselor. price@netw.coms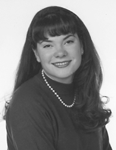 Aimee Elber
DO-IT 2-4 Profile
by Aimee Elber
My name is Aimee Elber and I have recently joined the doit2-4 electronic discussion list. I have a hearing impairment and wear hearing aides in both ears. My college education started out at Columbia Basin College in eastern Washington. In 1998 I transferred with an AA degree to Western Washington University in Bellingham. My major is special education. You may ask why I chose Western. Well, as I prepared to start applying to universities, I traveled around Washington state and visited campuses. This helped me get a better idea of what each school offered - I was able to visit certain departments, tour the campus, and look at the dorms. When I came to Western, I fell in love with the campus - the surrounding tree-covered mountains, the well-kept grounds, and the crisp, clean air typically found in the Northwest. I also liked the fact that Western is a small school and that there is a strong sense of community here. I found that there is an excellent education department here. Everything seemed to fall in place, and as a result - here I am.
My greatest hobby is reading, reading, and more reading. However, I have come to realize there isn't much leisure time left for reading, and I usually have my nose stuck in a textbook, rather than an interesting novel or biography. Other interests include quilting, American Sign Language, and working with disabled individuals. Since high school, my summers have been filled with either work or school. This summer, I will hopefully work at Meadowood Springs Speech and Hearing Camp located near Pendleton, Oregon. I was a staff member there in 1997 and I learned so much from the experience that I would like to go back again this year. ajelber@hotmail.com
DO-IT Mentor Profile
by Robert McKellar
Born in 1926, I underwent many surgeries to correct severe birth defects caused by spina bifida. Despite the odds, I not only survived but have filled my life with meaning and adventure. Upon graduation from the University of Portland in 1949, my teaching and counseling career took me to Oregon, Idaho, California, Hawaii and Japan. When I wasn't teaching or counseling, I traveled the world, flew my own airplane, and wrote letters to my mother. These letters are the basis for my first book, An Accident of Birth. My second literary effort, The Perfect Mirror, as yet unpublished, is a fictionalized account of my counseling experience at the California Medical Facility in Vacaville, California and San Quentin Prison. I retired in November 1990 and live in Davis, California where I am researching my third book, A Target Of Opportunity, which contrasts the wartime experiences of two families, one American and one Taiwanese.
DO-IT Staff Profile
by Kathy Cook
My name is Kathy Cook. I am the counselor/coordinator for the DO-IT efforts in the state of Washington. I have been involved with DO-IT for several years through membership on the advisory board and work during the summer programs. Prior to working with DO-IT, I was the Counselor for the University of Washington's Disabled Student Services (DSS) office. During the five years I worked for DSS I met with over 500 students with various types of disabilities. The opportunity to meet with so many students gives me insight into the difficulties that students with disabilities face when they attend college and the successful strategies they employ. I received a Bachelor of Arts degree in Human Services through Western Washington University's satellite program at Seattle Central Community College. I have a strong interest in American Sign Language, and have been signing for the past ten years. Additionally, I like to keep busy by volunteering at Children's Hospital and Regional Medical Center, and spending time with family and friends. I enjoy gardening, reading, camping and anything that has to do with beads!