DO-IT Provides Opportunities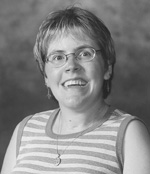 DO-IT Ambassador, Katrina.
There are many advantages for being selected into the DO-IT program, but I'm only going to mention one of them. After staying at the UW for Phase II of the Summer Study program, I had the great honor of being recommended by DO-IT staff to attend the 1999 National Leadership Conference for Youth with Disabilities. The Mitsubishi Corporation sponsored my participation. The following year I applied to be on the executive board to help plan the 2000 conference. This is a rigorous five-day conference that takes place in June each year, with participants from all over the United States and its territories. Each participant has a disability, some invisible and some visible.
The schedule is exhausting, but the activities are informative and proactive. Every day, an important person in the disability movement who has a disability gives a powerful keynote speech. Each speech gets you deeper and deeper into the disability movement and makes you want to join. For a short time during one day, exhibitors' tables are set up, displaying flyers. Organizations in the disability movement are represented here.
On the first full day of the conference, everyone participated in leadership training. There were about 120 people, including the planning committee, so we had to break up into three smaller groups, all on the same floor. Participants chose what room they started in and then, when that session finished, they moved to another room. It was great training to help us build our leadership goals and skills.
In order to be chosen for the event, you have to fill out an application and write a good essay. You must be 18-25 years old by the time the conference starts. Over 500 applications are received each year. If you decide to apply, good luck and I hope to see you in the leadership community soon! You can get more information by visiting the Web site at http://www.cessi.net/contracts/dps/ncd_nlcyd.html.