DO-IT Scholar Follows a Leader for a Day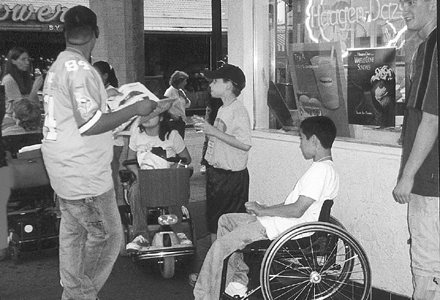 Steven (seated) shares an ice cream snack with DO-IT Scholars and friends.
Congratulations to 2001 Scholar Steven! Steven was one of 24 Washington State high school students selected from over 800 entrants chosen to Follow-A-Leader for a day. As a winner, Steven spent a day job shadowing Mr. Scott Wyatt, the Chief Executive Officer of NBBJ Architects. He also received a $1,000 savings bond.
Steven entered the contest by writing an essay about what he could learn from job shadowing Mr. Wyatt, one of 24 community leaders that students could write about. The contest was sponsored by King 5 TV, The Seattle Times, and the Bon Marché.
What a great way to explore a career in architecture. Way to go Steven!