DO-IT Scholars Featured in Upcoming Closing the Gap Article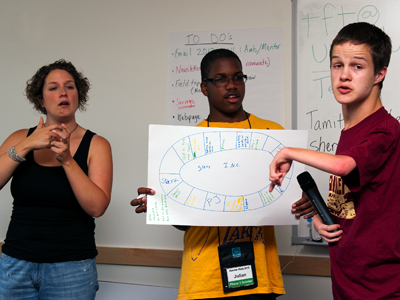 Multiple DO-IT Scholars are making an appearance in the upcoming issue of Closing the Gap Solutions, an online magazine offering resources and discussions on assistive technology. The article highlights the DO-IT Scholars program and specifically shares responses from the Intern Success Panel, an event each year where third-year participants discuss their own experiences with school, life, and their disabilities.
One of the students on the panel talked about DO-IT's Summer Study program, which takes place on the University of Washington campus, as an empowering experience; "camp is two weeks and that was something I have never done before . . . it really helped me learn how to be more independent-how to be more self-reliant." Other students discussed things they have learned in life, one student saying "I will have to deal with the situation myself and [learn to] see the problem positively, not negatively."
Closing the Gap works to provide resources and share information on assistive technology through webinars, an annual conference, and its online magazine, Solutions. Be sure to check out the full article and more great resources from Closing the Gap at www.closingthegap.com/solutions.