DO-IT Shines at CSUN
DO-IT is represented at dozens of regional, national, and international conferences each year, spreading the word about accessible technology, self-determination, transition skills, work-based learning, and other interventions that increase success in college and careers for people with disabilities. The following paragraphs summarize one of our latest trips.
DO-IT staff traveled to Los Angeles, California to participate in the International Conference on Technology sponsored by California State University, Northridge (CSUN). This annual conference, in its twentieth year, is a meeting place for people from around the world who are interested in the development and use of technology to improve the lives of people with disabilities.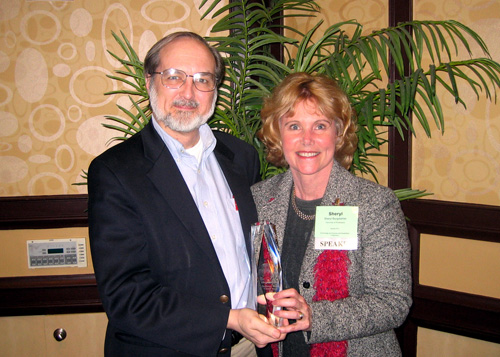 Burgstahler

receives Catalyst Award from Dr. Gregg

Vanderheiden

, director of the Trace Center

At the conference opening ceremony, Sheryl Burgstahler was awarded the Harry J. Murphy Catalyst Award. The Catalyst award is sponsored by the Trace Research and Development Center at the University of Wisconsin-Madison. The Catalyst award program was created to help identify, acknowledge, and honor those who bring people together and facilitate the efforts of others in the field of technology and disability. It recognizes "a class of people who inspire action and foster the achievements of others while taking none of the credit for themselves." 
Terry Thompson presented a breakout session called "Universal Design and Web Accessibility". Sheryl Burgstahler presented a session called "Distance Learning: Promoting Accessible Design". She also partnered with Scott Bellman to present a session called "Access to Technology in the Workplace."
In addition to the crowds at the presentations, staff met with hundreds of people in the DO-IT exhibit booth. They were teachers, education professionals, students, parents, and technology experts. They appreciated DO-IT printed, electronic, and video resources, and many will stay connected with DO-IT after they return home!