DO-IT Staff Profile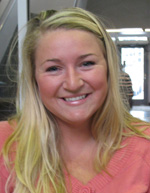 Portrait of Ashley
Hi, my name is Ashley Ingersoll. I'm currently a senior at the University of Washington (UW). I will be taking time off to spend one year in Hawaii and then return to the UW to graduate in 2009. My double major in communications and social science has kept me really busy.
I've been working at DO-IT since 2003, as both a student staff person and currently as a program assistant. Most of my work at DO-IT is "behind the scenes." I organize conferences, help with events, and assist the program staff in many ways. This work entails sending a lot of email messages and spending a good deal of time attending meetings and working at the computer.
In my spare time, I enjoy playing soccer, hanging out with my friends and family, kickboxing, traveling, and cooking... all right, and the occasional episode (or season) of Lost and Survivor.