DO-IT Staff Profile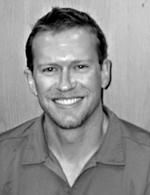 DO-IT Staff member Michael
My name is Michael Richardson, and I have been working at DO-IT for two years. Currently, I coordinate the CAREERS K-12 program. The goal of this program is to increase the participation of K-12 students with disabilities in work-based learning experiences, such as job shadows and internships. This also includes providing information and support to parents, educators, and employers.
Shortly after I was born in England, my family emigrated to the USA and we settled in Newport Beach, California, where I spent the first 8 years of my life enjoying the sun and surf. At the age of five, I was found to have a moderate hearing loss in my left ear and was fitted with a hearing aid. As I got older, my hearing loss progressed, and I eventually ended up wearing two hearing aids.
After finishing junior high school in Enumclaw, Washington I attended Charles Wright Academy, a private high school in Tacoma, Washington. My parents felt that a smaller classroom environment would be more conducive to my communication needs. Upon graduating from high school, I decided that I needed to meet other students with hearing loss and chose to attend California State University, Northridge (CSUN) near Los Angeles. Additionally, CSUN is well known for its support services to deaf and hard-of-hearing students, and I was impressed by their professional notetaking services. This was a great experience for me, and I learned sign language through my associations with my deaf friends. I received a Bachelor of Science degree in health education in 1990 and moved back home to Washington with the hopes of finding a job as a health educator.
Upon arriving home, I applied to vocational rehabilitation services for job placement assistance. The job developer, who was assisting me in my job search, asked me if I wanted part-time work as a job coach with her agency. I accepted because I needed a job immediately (I was anxious to get my own bachelor pad and out of my parents' hair!). My first task was job coaching a prep cook who was deaf. It was then that I realized I wanted a career working with people with disabilities. After a few months, I was promoted to a job developer and after two years, I accepted a job as a vocational rehabilitation counselor with the Washington State Division of Vocational Rehabilitation (DVR). I worked for DVR for nearly eight years as a counselor, a regional coordinator of Deaf Services, and as a supervisor. Supervising was fun, but tough considering that most of my staff was much older than I was! Seeking a change in environment and wanting to work with students, I applied for my current position at DO-IT, and here I am!
Much of my free time is spent with my wife and two little girls, Devon, four years old, Emma, one, and my yellow Lab, Homer. Any other spare time is spent fly-fishing or restoring and riding vintage motorcycles.
My hearing loss has progressed to the severe/profound level in both ears. I use a variety of accommodations, such as a TTY and Voice-Carry-Over (VCO) phone, an e-mail pager, and sign language interpreters for meetings and conferences. I have no problem being deaf, but at the same time I would like to maintain and improve my oral communication skills as much as possible. That's why I decided to go high tech! On November 5, 2001, I had cochlear implant surgery and on December 3rd I had my device hooked up. In just over two weeks, things have really improved for me. Lipreading and oral communication is much easier and I can carry on a phone conversation with some family members (familiar voices). With additional programming and adjustments over the next several months, further improvements are expected! It has been a new and exciting experience for me!