DO-IT Staff Profile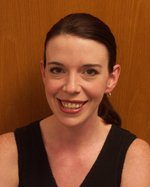 DO-IT Staff member Tami
Hi there. My name is Tami Tidwell. November will mark my one-year anniversary with DO-IT! Most of my work time is spent on various activities helping students with disabilities develop the skills they need to secure their dream jobs. These include résumé and interview workshops, arranging work-based learning experiences, and communicating with students through newsletters and one-on-one contact. Participating in Summer Study 2004 was a high point of my first year at DO-IT.
I am originally from Fort Worth, Texas, and earned a Bachelor of Science degree in psychology from Texas Christian University. I changed my major five times before meeting a professor of behavioral psychology who allowed me to combine classes from the communication sciences and disorders, English, dance, special education, and psychology departments into a degree that focused on my passions. I enjoy being creative and finding alternative solutions to everyday problems.
My career has taken me in many directions. My first job was as a case manager, then program manager for a group home for children with Autism. What I enjoyed the most about this experience was bringing children together with their families, which is not a typical focus of the group home system. When the group home closed, I became a staffing coordinator at a temporary employment agency working with some of the largest human resources departments in Seattle. A year later, an acquaintance offered me the opportunity to trade municipal bonds for a national broker. It was an excellent learning experience, but I missed working with people. A contact offered me the opportunity to recruit for companies like Children's Hospital, The Seattle Times, and Starbucks. Over the next three years, I fine-tuned my recruiting skills and became the most successful recruiter in the company. The downturn in the economy was very hard on the business, forcing us to close our Seattle office; I was the last recruiter to leave. I took the next year and a half off to contemplate and enjoy two beautiful Seattle summers, abundant gardens, and family travel. Then I met Doug Hayman from DO-IT, I learned about the program and an open position that seemed like a great fit for me, and the rest is history!
I enjoy using my varied experiences to benefit students on their road to college and careers. The relationships I've built over the past year are invaluable. I look forward to expanding this network and working together to create more opportunities for DO-IT participants.