DO-IT Staff Profile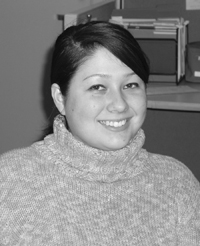 DO-IT staff member Noell
Hi! I'm Noell. I support overall facility operations and staff in the building where the DO-IT Center is located at the University of Washington in Seattle. I also support specific DO-IT activities. I believe that DO-IT is a fantastic program that is extremely important to any educational system.
I graduated from the University of Washington with BA degrees in English and history. I am a Lewis Carroll fiend. My emerging interests in literature are comics and graphic literature. My favorites are Sandman, TinTin, Fables, Scud, and Maus. As far as history goes, I most enjoy ancient history, including Egyptian, Greek, and Roman, as well as World War II history and East Asian history.
Practically a native, I grew up in the Seattle area after brief periods in North Carolina, Alaska, and California. I graduated from Cascade High School in Everett, with every intention of becoming a high school English teacher. I still plan to pursue that path, but, for now, I am taking time to get to know the world and myself, as well as revel in opportunities to participate in wonderful, educationally-directed programs like DO-IT.