DO-IT's Winter Pizza Gathering
The DO-IT family is still growing, and four times a year we have a good old-fashioned reunion. The most recent Pizza Gathering took place in Seattle and Spokane on February 8, 2013. We had over eighty attendees, including Scholars, Ambassadors, Mentors, AccessSTEM and AccessComputing team members, Parents, volunteers, and staff.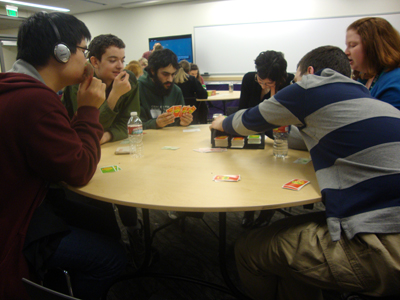 Participants from Spokane and Seattle were connected through our PolyCom video system. Two Scholars visiting home from Central Washington University even paid us a visit. Through the Seattle icebreaker, planned by A-Team members Kayla and Noah, participants learned interesting facts about each other such as hobbies, favorite subjects in school, quirks, aspirations, and more.
More than twenty parents attended in Seattle. The parent support network stays connected throughout the year via a discussion list. If you are the parent of a DO-IT participant and are interested in joining, please email doit@uw.edu.
Mark you calendars for the upcoming Spring Pizza Gathering. We will welcome our new 2013 Scholars to the fold. It will take place on Friday, May 17, from 6:00-9:00pm in Seattle and Spokane. If you would like to have a location closer to you, please email Tami Tidwell at tamitha@uw.edu.