Fun With Sumi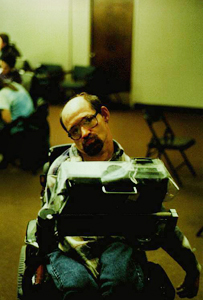 DO-IT Mentor and Sumi Instructor Alan Jodock-King.
A great showing of DO-IT Scholars was present the night of August 14 of the 1995 DO-IT Summer Study session. Scholars were eager to change pace after a day of lectures and classes on the University of Washington campus. An enthusiastic group listened as I spoke about sumi art history with my electronic comunication device. My husband, Alan King, showed a slide collection of his work as an artist with a disability. Alan also speaks with an electronic device called the Liberator. Then the group got down to the real business of creating art. Sumi art painting was new to many of the students, but they all appeared to be having a great time. By using their mouths, feet, hands, or heads, the Scholars expressed themselves through the medium of black sumi paint and brushes of different sizes. Paint brushes were making straight lines, curved lines, along with thin and thick. Some students are natural born artists. We think they have the artistic capabilities to set up their own art show some day.
Wes, Phase II Scholar
"I had been having lots of fun at the DO-IT program and was thinking that they must be running out of ideas by now to keep us entertained. My thought was interrupted when they announced the sumi art project. Here was something I really enjoy doing (art/painting that is). All the participants enjoyed this activity. I would be interested in doing it again. It felt good when people complimented me on my painting."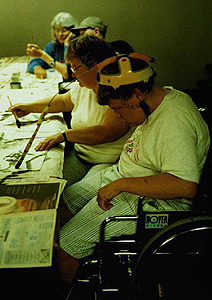 Phase III Scholar Anthony uses his head.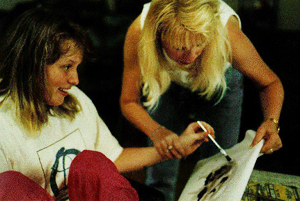 Phase II Scholar Shawnna creates her masterpiece.
DO-IT Mentor and Sumi Instructor Sharon Jodock-King gives some tips to Phase II Scholar Andrew.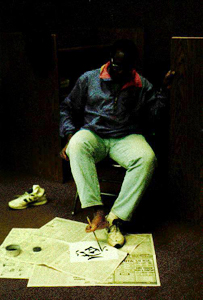 DO-IT Mentor Dan Locke tries a new way of painting.