Goodbye, Silvia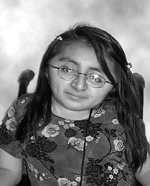 2002 DO-IT Scholar Silvia
Silvia passed away in January of 2011 after living a full but short life, overcoming many challenges to achieve success, and sharing her positive attitude with everyone she met.
Silvia, an '02 DO-IT Scholar, was born with osteogenesis imperfecta, which causes brittle bones. She attended high school in Royal City, WA, where she was a member of the National Honor Society. Sylvia pursued a bachelor's degree in business at Eastern Washington University until health issues forced her to move out of a dorm and back home. But her declining health didn't stop her for long. Determined to continue pursuing her college degree she enrolled in distance learning classes through Big Bend Community College.
Silvia was adventurous. She met life's challenges head on and never gave up. Her inspirational attitude will continue to inspire all of us in the DO-IT family.