How to Plan Disability Awareness Events
At some point in your life, whether at school, work, church, or your community, you may have been exposed to the idea of an "awareness" event, day, week, or even month. Whatever the length of time, these events are meant to focus on a single issue within society. They may take several forms, such as inspirational speakers, fundraising, workshops, town halls, and simulations. This article is meant to help guide you through the process of planning a disability awareness event on a school campus or in your community.
What is awareness?
This is a question that's important to unpack. Awareness should lead to long-lasting change within a community and ideally, it should facilitate action. Awareness should create or strengthen a commitment to social justice, addressing power and privilege. In this context, it is critical to identify the "problems" as barriers created by our society and culture, rather than placing blame on individuals or the existence of a disability within a person.
Should we have a disability simulation activity?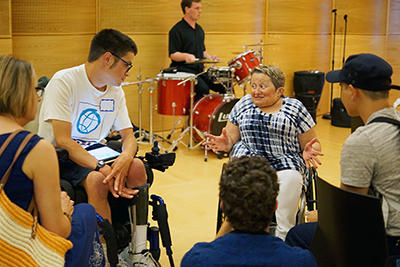 Disability simulations are a go-to activity for disability awareness events, however many people believe that simulations are a problematic approach. You may have seen a simulation that includes a wheelchair obstacle course or participants walking around with blindfolds to see what it is like to be a wheelchair user or blind, respectively. Simulations are used to show how difficult it must be to have a disability, which is not awareness that helps your community. They teach others that having a disability is something to pity and portrays the disabled community as helpless and disadvantaged. Of course there are challenges in having a disability, but these challenges are often the attitudes and barriers created by society, not the disability itself. Instead of having a wheelchair obstacle course, consider having teams explore and identify accessibility issues that need to be fixed. Look for ramp access, signage that is difficult to read, and other barriers. You can easily make this activity a competition. You could then have a follow-up activity—such as a petition, a town hall, or a future meeting—to promote creating recommendations to administrators to address these issues. This approach reinforces the idea that access problems lie within buildings, policies, and institutions- not within individuals. 
What else should I do?
Disability awareness events, if done right, provide opportunities to make a significant impact in your community. The following steps can guide you in creating an effective disability awareness event.
1) Assemble an event planning team with various perspectives.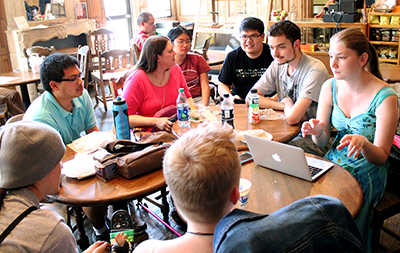 Brainstorm all of the possible individuals and organizations in your community that can help (e.g., non-profits, leaders, activists, students, clubs, and educators). Most importantly, involve people with disabilities in the planning and make sure a wide variety of disabilities are represented in the planning process. Also, strive to invite people with diverse characteristics, such as ethnicity, sexual orientation, culture, etc.
2) Decide on a format.
Use your planning team to ask people with disabilities what they'd like to see. Ideas may include a panel, round table, petition, movie viewing and a discussion about media, a speaker that talks about accessibility, a resource fair, and more. Prioritize the voice of people with disabilities and other marginalized communities. It is important to think critically about "inspirational speakers." Comedian and activist Stella Young addresses the idea of inspirational speakers and talks about objectifying people with disabilities through "inspiration porn" in her TED talk called "I'm not your inspiration, thank you very much."
And most importantly, establish the takeaway you want your audience to have. Always ask yourself if your event is perpetuating ableism (the systemic oppression of disabled persons) or dismantling it.
3) Decide if you need funding.
Consider what it will cost to fund the venue, captioning, interpreters, food, printed materials, and technology. To help mitigate these costs, seek volunteers and in-kind contributions. Then approach administrators and other sources for funding assistance.
4) Promote your event – and make it accessible!
Promote your event on campus, on social media, and in your networks through posters and flyers. If you have assembled a diverse planning team, they will be able to connect with their own networks and distribute the information.
Be prepared to provide various accommodations such as accessible documents, interpreters, and captions on videos. You can find a list of tips to help you plan an inclusive event here.
To share the event as widely as possible, create an email announcement to forward that includes a summary, date and time, location, RSVP instructions, and contact information. Again, include information about requesting accommodations, and be sure to make your announcement accessible. For more information about accessible documents, visit our website.
5) Evaluate.
Develop an evaluation to have attendees fill out after an event so you can see real data that tells you about the success of your event. Use this information to improve future events.