IDEAS Meet and Greet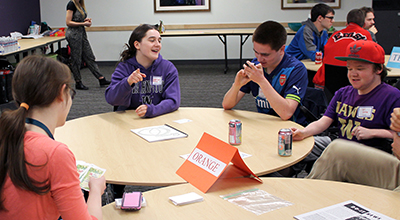 In November, 10 University of Washington (UW) students gathered for a networking meet-and-greet on the UW Seattle campus. This was the first in-person meeting for the Individuals with Disabilities Engaging for Academic Success (IDEAS) project. Students from across all three UW campuses attended the event to meet and discuss topics such as communicating with faculty about academic accommodations, creating communities for people with disabilities on their campuses, and finding jobs and internships.
IDEAS provides a space for students with disabilities at UW to connect with each other and foster relationships based on similar experiences. This project is being coordinated by the DO-IT Center.
The 2018-19 school year will bring many engaging events:
elevator pitch workshop
career fair preparation and invitation to the Diversity Career Fair
disability in the workplace disclosure webinar
disability identity book club and webinar
D Center coffee hours and film screenings
resume workshops
Funding for this project was provided through the Diversity and Inclusion Seed Grants program through the Office of Minority Affairs & Diversity at UW. These small grants support projects for institutional transformation across the UW's tri-campus community that align with the goals of the 2017-2021 UW Diversity Blueprint.
For more information about the IDEAS project, see the IDEAS announcement in the previous issue of DO-IT News or contact Kayla Brown at kayladb@uw.edu.