Ignite Your Education (AccessComputing News Feb 2009)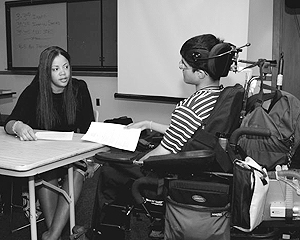 Student talking to an interviewer during mock interviews.
Work-based learning is an important part of both academic and career preparation. In his article "Internships and Students with Disabilities" that appeared in the January 2009 issue of the CTG Journal (see previous article), AccessComputing project staff Scott Bellman discussed the needs of students who participate in internships:
Challenging internships are a critical part of career success for all students. Internships help students clarify their career interests and provide new opportunities for learning and growth. Students with disabilities in high school and college have unique needs as they pursue internships. It's important that professionals who serve them, such as career counselors and internship coordinators, understand research that relates to work-based learning and students with disabilities.
Bellman outlines principles from the book Quality Work-Based Learning and Postschool Employment Success by Luecking and Gramlich as well as the results of DO-IT research and practice that AccessComputing staff apply when developing successful work-based learning experiences for participants. For example, the results of research conducted by DO-IT staff (Sheryl Burgstahler, Scott Bellman, and Sara Lopez) and published in the National Association of Colleges and Employers Journal includes the following suggestions for work-based learning programs that serve students with disabilities:
Develop disclosure strategies with the student early in the job search process.
Encourage employers to identify their employees with disabilities to act as role models for students.
Develop clear, specific goals for the work-based learning experience.
More information on successful work-based learning for students with disabilities can be found at DO-IT: Research to Practice.