Inclucity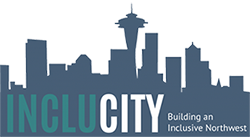 "What will it take to break down the barriers experienced in our communities and create a truly inclusive Northwest?" This is the question posed by Provail at their new event, called Inclucity. Inclucity 2016 took place on October 20, at McCaw Hall in Seattle Center. It was an opportunity for our community to learn about the challenges and successes of creating an inclusive Puget Sound.
DO-IT hosted an interactive booth alongside other local businesses and agencies. Prior to the event we were asked to complete the following prompt, "In an inclusive community…" Being the only organization to represent the academic side of this issue, we felt our statement should focus on higher education. We decided to keep our statement simple: "In an inclusive community, students with disabilities have equal access to higher education."
To support this sentiment, DO-IT shared resources on preparing for college, assistive technology, and universal design. Participants were able to view videos, discuss ideas and options, and walk away with resources for accessing college.
The attendees of the event were a mix of community members, families, agencies, corporate employee representatives, and of course, people with disabilities. Inclucity provided a setting for community members to have conversations about opportunities for people with disabilities. Topics such as jobs, recreation, economic equity, physical access, agency support, and education were highlighted in particular. We spoke with many families who appreciated having discussions about higher education because people with disabilities are often discouraged from attending school or educational programs after high school. One parent told us that she wanted her son to have the opportunity to be a "lifetime learner," but expectations are set so low for him that he never feels encouraged. This parent captured why it's important for events like this to exist, because people with disabilities should have a variety of options, and higher education needs to be more equitable in order for us to be a truly inclusive community.