Inclusive Coding Festival 2022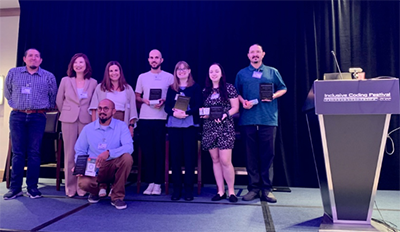 AccessComputing co-sponsored the Inclusive Coding Festival 2022, which took place on October 22 in Orange County, CA. It was a one-day conference that featured two keynote speeches: "Power of Diversity in AI" and "How People with Disability Elevate Computing," a panel titled "Navigating Neurodiversity in Tech Industry," and coding project presentations by neurodivergent students.
In the morning, AccessComputing co-PI Dr. Stacy Branham (University of California, Irvine) and Maria Alvarez (vice president of Experimentation Platform, AI Platform group, Microsoft) delivered inspiring keynote speeches and answered questions from the audience, while reflecting upon the journey of inclusion in computing education and industry. After that, a Tech Career Panel for neurodivergent students was presented. Panelists included senior leaders from Microsoft, SAP, and CAI Neurodiverse Solutions. They spoke about the Neurodiversity Hiring and Autism at Work programs at tech companies and services that neurodivergent talents can leverage. Some panelists were neurodivergent themselves and shared their own stories and experiences. Attendees found the panel very informative and encouraging.
Over summer 2022, the Inclusive Coding Festival hosted a pre-festival six week project event, matching 21 neurodivergent college students from 14 universities with volunteer mentors from tech companies. Students worked for these six weeks on projects in artificial intelligence, cloud, or game development with remote support from their project mentors. In the afternoon of October 22, five finalist projects were presented and prizes were awarded. After the college project competition, 12 K-12 students also showcased coding projects with at least one neurodivergent student in each team. There were 99 registered attendees on that day, which included IT employers, students both with disabilities and without, and families.
Inclusive Coding Festival 2022 was organized by a partner of AccessComputing, Code the Spectrum, which is a non-profit organization aiming to help build IT education and career pathways for neurodivergent students.