Join the DO-IT Campers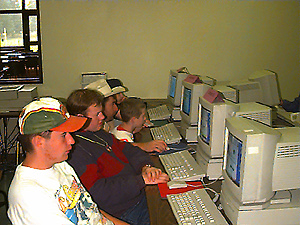 Camp Laughalot Computer Lab
A camping we will go, a camping we will go, hi ho the derry-o, a camping we will go...
DO-IT is going to camp again this summer. The students at Camp Courage learned so much and had such a good time last summer that we're not only going back to Maple Lake, Minnesota this year, but coming to camps in Washington state as well.
Look for DO-IT at three Washington summer camps for disabled children and youth: Camp Laughalot, Camp Easter Seal West, and the Muscular Dystrophy Association Summer Camp at Camp Waskowitz. We'll be bringing computers and adaptive technology, setting up a local network, and connecting to the Internet so campers can learn the basics of electronic communication (electronic mail) and information gathering (World Wide Web). Campers will have time to learn, time to cruise the 'Net, and time to show off what they find. We'll also be talking with older campers about making the transition to college successful.
Camp Laughalot is a seven week summer day camp operated from 9 a.m. to 2 p.m. each weekday by the Pierce County Parks and Recreation Department. It serves about 80 people aged 6 to 21 years of all abilities, including those with cerebral palsy, Downs syndrome, fetal alcohol syndrome, autism, hearing and visual impairments, emotional and behavioral challenges, and attention deficit disorder. This year the camp will be using the facilities of Rogers High School on the South Hill of Puyallup for daily activities which promote self-esteem, sharing, cooperation, teamwork, friendship, fitness, sportsmanship, and...fun! DO-IT will be offering Internet sessions in the school computer lab during the morning activity period each day July 15-19 and July 29-August 2. DO-IT will also offer session on college transition.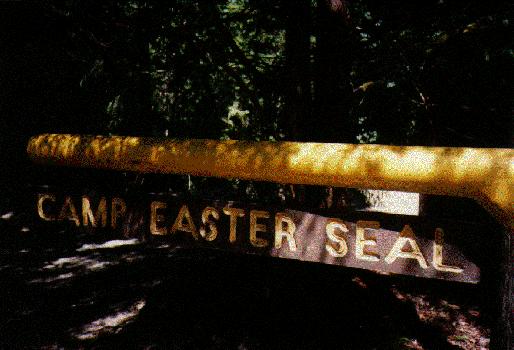 Easter Seals Camp Sign
Camp Easter Seal West is a year-round residential camp located in Vaughn Bay, near Gig Harbor. It offers 5- to 7-day sessions for campers with disabilities of all kinds who are age 7 and above. About 450 people attend the summer program, which offers horseback riding, waterfront activities, swimming, arts & crafts, and sports. We'll be set up in the lodge classroom the first two weeks in July, offering Internet sessions twice a day during the morning and afternoon activity periods and a college transition workshop.
The Muscular Dystrophy Association offers a one-week residential summer camp at Camp Waskowitz in North Bend July 22-26. Each summer finds 100 kids with neuromuscular disease, ages 6-21, engaged in arts & crafts, swimming, singing, fishing, karaoke, and field events. They also attend dances and campfires. DO-IT will be offering Internet sessions during both the morning and afternoon activity sessions and a college transition workshop.
Camp Waskowitz Computer Lab
And we'll be at Camp Courage again July 7-16. The Camp Courage Internet and College Preview Camp is part of a partnership between the DO-IT project and Courage Center in Minnesota. This session offers intensive instruction to approximately 18 campers over a 10-day period, delving into Internet resources such as email, gopher, telnet, and the World Wide Web; and daily workshops on how to succeed in college and careers. Campers communicate via email with DO-IT Scholars and Mentors and take a day trip to St. Cloud State University. But there's still lots of time for typical activities such as horseback riding, overnight camping, fishing, swimming, parties, dances, and more.
College Preview Camp is open to any young person who has completed seventh grade or higher and has college potential. Although Camp Courage primarily serves Minnesota, Wisconsin, Iowa, South Dakota, and North Dakota, participants from other states are welcome.
So bring the sunscreen and bug spray and become a DO-IT Camper--we'll see you there!
---------------------------------------------------------
Camp Contacts
Camp Easter Seal West in Vaughn Bay, WA. July 1-5. For information contact camp director Peggy Smith Sorenson (206) 884-2722 or Easter Seal Society of Washington, 521 Second Avenue W, Seattle, WA 98119; (206) 281-5700; email eastersealare@seals.org.
Camp Courage Internet/College Preview in Maple Lake, MN. July 6-16. For information contact Courage Center Camping Department, 3915 Golden Valley Road, Golden Valley, MN 55422; (612) 520-0504; TTY: (612) 520-0245; camping@MTN.org .
Camp Laughalot in Puyallup, WA. July 15-19 and July 29 - August 22. For information contact recreation supervisor Scott Hall, Pierce County Parks & Recreation Department, 9112 Lakewood Drive SW, Suite 121, Tacoma, WA 98499-3998; (206) 593-4176.
Muscular Dystrophy Summer Camp in North Bend, WA. July, 22-26. For information contact MDA director Rosemary Owens at the Muscular Dystrophy Association, 701 Dexter N, Seattle, WA 98109; (206) 283-2183.