Konnichiwa! DO-IT Scholars Participate in International Conference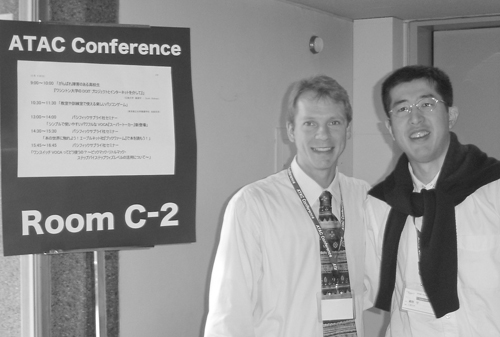 DO-IT Staff member, Scott Bellman, with DO-IT Scholars at an international conference
On December 3, 2004, DO-IT Ambassadors and UW students Chris and Ryan participated in the Assistive Technology and Augmentative Communication (ATAC) conference hosted in Kyoto, Japan. 
Chris and Ryan joined DO-IT program manager Sara Lopez at the Seattle office and connected to the ATAC conference using iChat technology—an Internet connection that supports video and audio. In Japan, Dr. Mamoru Iwabuchi, who was a visiting Scholar at DO-IT for one year, and I spoke to an audience of Japanese teachers and service providers who were interested in the role technology can play in K-12 education and college preparation.
This "panel of experts" answered questions translated into Japanese by Mamoru for an audience of 70 participants. Questions answered included:
What have you learned from DO-IT?
What accommodations do you have at school?
What are your tips for an independent college life?
What kind of concerns and challenges do high school students with disabilities have regarding the transition to postsecondary education?
What can high school teachers do for their students' successful transition?
Should students disclose their disabilities when submitting their applications and/or having job interviews?
What are some tips for developing an online mentoring community?
Dr. Iwabuchi, DO-IT Director, Dr. Sheryl Burgstahler, and I partnered to present a paper at the conference entitled Transition Guide for High School Students with Disabilities. After the conference Mamoru stated, "People say that it was a big success! I could never have this great feedback without your contribution. All your answers were clear and contained a powerful message to the audience. I am sure you have made a good change here! You were fantastic DO-IT delegates!"
For more information about DO-IT's global efforts, visit DO-IT International Connections at DO-IT International Initiative.