Making Your Online Meeting or Presentation Accessible to Participants with Disabilities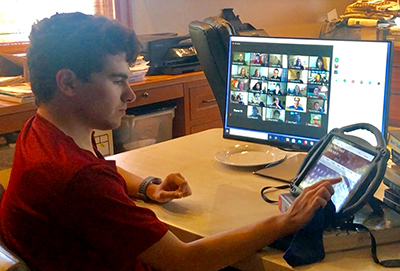 I doubt if anyone hosting a meeting or delivering a presentation intentionally excludes those who have a right to be there. However, every day, meeting hosts and presenters erect barriers to some people, including those with disabilities. Several examples follow: 
A person who is blind or connecting to a meeting by phone cannot effectively follow a presentation unless the presenter verbally describes critical content on slides.
A person who is not blind but has a visual impairment may have difficulty reading content on a slide if the text is presented in a small font that is not sans serif on a background that is cluttered.
An individual who is an English language learner or is deaf or hard of hearing may require captioning or a sign language interpreter.
A person who needs more time to process the content will be disadvantaged unless a video recording is available.
A person who is blind and using a screen reader to read aloud content in digital documents, slides, and websites will not be able to access information unless the materials are created in a text-based format that is structured to work well with their technology.
An individual with a reading-related disability and using text-to-speech software to read aloud content presented in written materials will be disadvantaged in reading them if they are not in a text-based format.
Addressing these issues can help meeting hosts and presenters get started in making events welcoming and accessible to all participants. But this list is just a start.
For more information about hosting accessible and inclusive online and on-site meetings, presentations, and other events, consult our Knowledge Base article How can conferences, meetings, presentations, and other events be made accessible? There you will find a summary of basic considerations and links to useful resources with technical details and more suggestions. If you have recommendations for other resources to add to this list, share them at accesscomp@uw.edu. Also, search the Knowledge Base for other articles—questions and answers, case studies, and promising practices—related to the full inclusion of people with disabilities in academic, employment, and other engagements.