My Research Experience in Human-Computer Interaction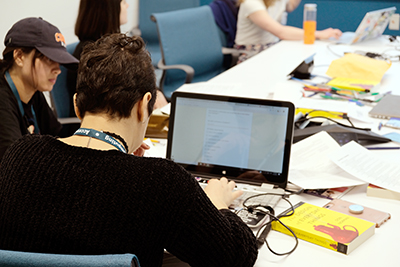 I am a senior Millennium scholarship recipient and an honors scholar majoring in computer science and mathematics at Troy University although I am originally from Alexandria, Egypt.  I joined AccessComputing in 2018 and attended their OurCS@UW two-day research workshop in 2019. This community has really helped me integrate my learning and mental disabilities as part of my identity and empowered me to advocate for inclusivity in science, technology, engineering, and mathematics (STEM), as well as explore what I, as a researcher, can do to contribute to that. AccessComputing is also an instrumental player in my selection for The Teresa Haven Scholarship for Students with Disabilities.
This summer, I was given the opportunity to be a research assistant at the Human-Computer Interaction Lab at the University of Notre Dame (HCI@ND). HCI@ND is run by Dr. Ronald Metoyer, who has been my mentor and research advisor. Dr. Metoyer is also the assistant dean of diversity and special initiative at Notre Dame's College Of Engineering. Our study was part of a broader project that is focusing on the process of holistic admissions and evaluation in undergraduate universities in the US. Admissions officers have to analyze the information in a growing volume of applications each year while maintaining objectivity and trying to take everything into context, which tends to be a tedious mental process. By analyzing the areas of improvement in the design of current digital applicant evaluation tools, our goal was to help them increase their efficiency in reviewing each applicant. As an intern, I worked with graduate students and met with my advisor daily. My tasks ranged from taking part in the planning process of participatory design activities to interviewing participants and analyzing qualitative and quantitative data.
I was introduced to the field of human-computer interaction as an accessibility and ubiquitous computing research intern for EvoXLabs back in 2017. EvoXLabs in an initiative that focuses on serving people with disabilities through technology and improving websites for people, particularly those with vision impairment. They also provide free accessible web solutions to non-profit organizations. I enjoyed applying my classroom knowledge of computer science to gain skills in algorithm design. I also discovered my knack for research as I studied people with color-blindness and how to create a Chrome-extension that would enhance their web-surfing experience. I have since avidly explored the field of HCI both by reading publications and having conversations with researchers in academia and industry. I like HCI because I can use my passion for technology to make a real-world impact towards a more equitable society and a better future.
I am thankful for this opportunity. Aside from the beautiful campus and the efforts of the research experiences for undergraduates (REU) administrative team to give us the best experience possible. They provided Brown Bag seminars to familiarize us with different areas of STEM, workshops on good practices in research and graduate school degree-types and application processes, and social and professional networking activities. I know I walked away this summer with a repertoire of valuable skills, including how to effectively interview participants and how to complete data analysis. I not only learned about holistic admissions, but also the field of information visualization. I have explored valuable technical skills like visualizing data through d3.js. Finally, I honed my presentation and communication skills as I presented our project in the annual undergraduate research symposium. Dr. Metoyer and our team are still working on a conference proceeding.
If I had to give advice to other students with disabilities in STEM out there, it would be to be involved in their communities, to participate in diversity initiatives actively, and to explore and advocate for their beliefs. I know I would not have such a positive college experience as an international student in the US if it was not for my involvement and volunteering in multiple diversity in STEM initiatives, such as AccessComputing, the Grace Hopper Celebration, the AnitaB.org Systers online community, URGE, NSBE, CRA-WP, ACM-W,  Lesbians Who Tech, ELPHA, Hexagon UX, NextBillion, Cornell SoNIC, and GeorigaTech's FOCUS.  I also took the initiative to manage the first hackathon in the southern part of Alabama as the president of Troy University's Computer Science Club in the past year. My team was driven by their dream to bring educational and professional opportunities to the untapped talent in the area as well as to promote the participation of underrepresented minorities in computing.
I am very grateful for this experience and the opportunity to not only grow my resume, but learn important skills and make lifelong connections. I had an amazing and inspirational advisor who was very hands-on and made sure that I learned as much as I can during my time in his lab. I was part of a dynamic and energetic team of researchers, and I know that I am not only more prepared for graduate school but also a career in research beyond. I am currently applying for Ph.D. programs in Computer Science as well as preparing for a semester-long study abroad program at the University of Skövde in Sweden.