My Study Abroad in Italy
I studied abroad in Italy during fall of 2017 for ten weeks. Being a medical anthropology and global health major, I participated in the UW Study Abroad program "Anthropology Rome: The Culture and Politics of Food in Italy." I was initially interested in the program because food was a topic I had not studied much in my classes at UW, and I was interested in learning how culture, politics, and food were intersected and in what ways food affects population health.
Being a Deaf person, I use accommodations such as sign language interpreters, note takers, and captions on videos. Travelling to a foreign country can be difficult when having accommodations. I had to work with the Disability Resources for Students (DRS) center on campus starting six months before I left the States. We decided it would be best if an interpreter met me in Rome and stayed with the group for the duration of the program. I also got note taking and captioned videos. For my apartment, I had strobe lights to alert me if there was a fire in the building. It was not difficult to get accommodations; it just took a lot of communication and coordination between several people to make it all happen.
I stayed in an apartment with four roommates in Trastevere, a part of Rome that is known to be very lively and busy. There would be bands, fire breathers, circus acts, dancers, magicians, and other one-of-a-kind acts. I would often stop and watch because the acts were always complex and creative, as well as easy to follow along. There wasn't any language barrier to overcome; it was universal communication.
While in Rome, we had classes every day for the first four weeks about Italian gastronomy, global food politics, and alternative food economies. We had an intensive language course where we learned conversational Italian. We also visited a lot of markets such as Campo de Fiori, San Cosimato, Zolle, Testaccio, and so many more. Visiting these markets was essential in our application of concepts learned in class. For example, we learned that food has become much more industrialized and built to create quantity over quality. This has caused widespread hunger, malnutrition, and the loss of food democracy. Italian farmers are working together to promote change in the food industry by reverting to older, more healthy and cheaper farming practices.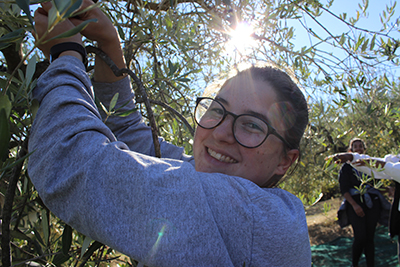 For the next four weeks we travelled to different farms around Italy, learning farm operations and how having smaller farms improves population health. We stayed on Suzie's Yard in Cetona for 10 days picking olives and learning how to make olive oil. We also cooked a lot, learning a lot of traditional Italian recipes such as Minestrone soup and pasta sauces, as well as how to make fresh pasta. We then stayed at Casa Caponetti in Tuscania. At this farm, we learned about planting crops, animal husbandry, and Olive Oil gastronomy. We picked olives, planted garlic, and learned new recipes such as Tuscan bean soup, pumpkin soup, and focaccia. Both of these farms taught the importance of producing pesticide- and chemical-free crops.
One of the best parts about studying abroad in Italy was, of course, the food! I ate pizza, pasta, bread, soup, cheese, salami, gelato, tiramisu, etc. One might think that all of this food is really heavy and unhealthy, but in actuality, pretty much all food in Italy is produced with fresh ingredients. Most food is not processed and is made with the freshest ingredients possible, which means people are not ingesting unnecessary chemicals. This makes it so that even the big bowl of pasta with greasy red sauce is likely healthier than the same dish found in the U.S.
In summary, I learned a lot about food, culture, farming, natural eating, and travelling. It was a trip of a lifetime. I loved having the chance to travel independently, meet new friends, learn how to speak some Italian, meeting Italians, and so much more. One thing I learned about myself was that I would love to be a farmer. I've always had a garden in my backyard and every summer my family and I grow tomatoes, beans, peas, zucchini, cucumbers, and other various vegetables. I've decided that one day I want to own a bigger piece of property somewhere, raise animals, grow crops, and farm. I encourage anyone to participate in urban farming and produce fruits and vegetables. After all, farming is simple, all it takes is some soil, seeds, and water.