New AccessComputing Website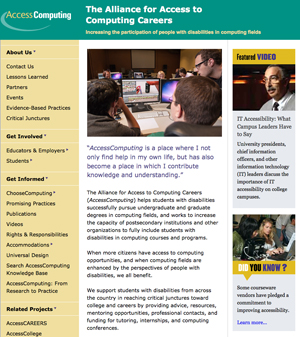 The new AccessComputing website offers even more resources and easier navigation.
AccessComputing has just launched a redesigned website with a new look and feel as well as new navigation, search capability, content, and features. Take a look at www.uw.edu/accesscomputing.
The new Choose Computing (www.uw.edu/accesscomputing/get-informed/why-choose-computing) encourages high school students with disabilities to pursue computing and IT careers. There you'll find profiles of successful computing students and professionals who happen to have disabilities, resources to learn more about careers in computing, and examples of computing projects.
With the new website, we've also launched our AccessComputing Replication Packages (www.uw.edu/accesscomputing/get-involved/educators-employers/replication-packages). These publications provide information and resources that can be used to replicate activities that have been successful in supporting AccessComputing's goals of increasing the participation of individuals with disabilities in computing and IT fields. You can learn about camps and activities for students as well as trainings designed for professionals.