New Grant on K-12 Computing Education for Students with Disabilities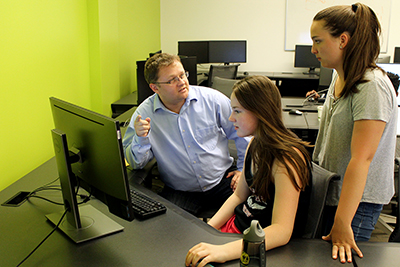 AccessCSforAll
PI Andreas
Stefik
teaches K-12 students how to code with Quorum, a language of his own design, during a workshop held at the University of Washington.
DO-IT has received a new National Science Foundation grant focused on K-12 computing education for students with disabilities.  Through the grant, we will continue our AccessCSforAll work with Richard Ladner from the University of Washington Allen School of Computer Science and Engineering and Andreas Stefik from the University of Nevada Las Vegas.
K-12 students with disabilities in computing may encounter tools that are not accessible to screen readers or inaccessible curricula that relies exclusively on visual program output. The new grant will create a research practitioner partnership with schools that serve students who are deaf, blind, or have learning disabilities as well as mainstream schools to test the effectiveness of an accessible version of Advanced Placement Computer Science Principles. The project will also develop resources to help computer science teachers include students with disabilities in courses and partner with the College Board to ensure that they are ready to properly evaluate students with disabilities.
Interested in learning more about computing education for K-12 students? Check out our video Quorum: An Accessible Programming Language, which won a Facilitators' Choice Award in the 2017 STEM for All Video Showcase. Read more about the work we've done so far in AccessCSforAll: Making Computer Science Accessible to K-12 Students in the United States in the June 2017 SIGACCESS Newsletter.