New Webinar Recordings Available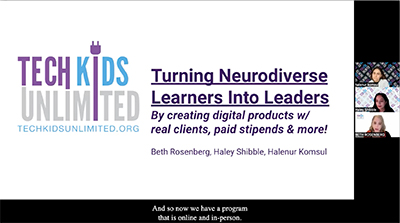 Recordings are now available for recent webinars hosted by AccessComputing and AccessCSforAll.
Considerations for Technology Design for People with Chronic Illnesses
Presenters: Emma McDonnell, Kelly Mack, Sarah Coppola (UW); Litany Lineberry (Mississippi State)
Supported by AccessComputing
In this session, University of Washington PhD students Emma McDonnell (HCDE) and Kelly Mack (CSE) present their work around how technology design can better consider people with chronic illnesses. Following the presentation, there will be a panel where other community members will share their thoughts on the topic.
Turning Neurodiverse Learners Into Leaders
Presenters: Beth Rosenberg, Halenue Komsul, Haley Shibble (Tech Kids Unlimited)
Supported by AccessCSforAll
Tech Kids Unlimited (TKU) works with neurodiverse students to teach them computer science principles, technology and social emotional skills. Learn how neurodiverse teens can become advocates for their own learning through TKU's Digital Agency enterprise—where students work on real digital products for clients and get paid.