DO-IT Profiles
DO-IT Scholar Jamie
DO-IT Scholar Profile
by Jamie
My name is Jamie. I am a senior at Quincy High School in Washington. I have two older brothers and one sister. I like to read, ride my 4-wheeler, work on the computer, and go to youth group.
I have cerebral palsy and have a hard time writing. I also get tired if I walk too much. Using an AlphaSmart has been very helpful in my high school classes. I would like to get a degree in web design or be a computer network administrator. Having the Internet has helped me with homework and learning about many different careers. DO-IT has helped me see what college is like and how I can be more independent.
DO-IT Ambassador Profile
by Ryan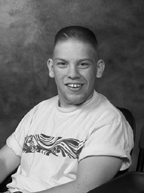 DO-IT Ambassador Ryan
My name is Ryan. I am in my sophomore year at the University of Washington (UW). I graduated from Sumner High School in Washington, but am originally from Bonney Lake. There, I lived with my mother Linda and younger sister Becky. In the Summer of 2002, I was a DO-IT Intern. This experience helped me gain people skills, as well as learn how to multi-task.
Right now, I am living in a dorm on the UW campus. I am working on the prerequisites for my computer science major. In the Winter of 2004, I will be able to apply to the computer science department and then I can begin taking the courses that I really like— the more in-depth stuff. I plan to earn a degree in computer science, and then hopefully work at Microsoft.
DO-IT Mentor Profile
by Karen Braitmayer
My name is Karen Braitmayer. I am an architect by profession, a person with osteogenesis imperfecta, a wheelchair user for mobility, and a wife and mom. I love my work and am always happy to share practical tips or suggestions of what has worked for me in terms of how to enter Architecture or related career paths with DO-IT friends.
I attended Rice University for my B.A. in behavioral science, and then worked for a year in the medical research field. My dad wasn't convinced that behavioral science was a great degree for job-preparedness, so he suggested I go to a career aptitude testing service. They identified that I might be well suited for a career like architecture or engineering. The best piece of information they gave me was that I could go back to school for a master's and get a first professional degree in architecture. I was tempted to give it a try, so I entered the University of Houston for a master's of architecture degree. I fell in love with architecture and worked harder than I ever had in college.
Upon graduation, I worked in both medium and large-sized firms as I gathered lots of practical knowledge about practicing in the field. After about 9 years in the field, a friend from grad school and I joined to open our own firm, Studio Pacifica, Ltd. (www.studiopacificaseattle.com).
I focus on accessible design in my practice and have served on many public and governmental panels to review significant civic projects in our region for accessibility for all. I want to give back to the community to be sure that all the folks who come after me can enjoy our city equally.
I am married and have a six-year-old daughter who keeps her parents on their toes. She is a 'chair user as well, so hopefully she will be a part of DO-IT when she is old enough! As a family, we enjoy boating, going to parks, and visiting with friends. We are all avid readers, so if you drop by unexpectedly you might find one or all of us with our noses in books!