Oh, the Places We Go
Some of you have asked, "So what do DO-IT staff DO during the academic year?" One important DO-IT outreach effort is to attend, present, and disseminate information at conferences around the United States and in some cases internationally. Here is a view of some of the places we've been this year, who we have met, and what we've learned.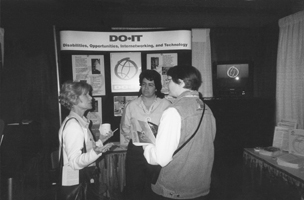 Director Sheryl Burgstahler and project coordinator Sara Lopez describe DO-IT to an attendee at the CSUN 2000 conference in Los Angeles.
October 1999 was a very busy month for conferences, beginning with Closing The Gap in Minneapolis, Minnesota. DO-IT hosted a booth with Courage Center, one of our camp partners located in Minnesota. Closing the Gap's annual conference has earned a reputation internationally as a leading source for information on innovative applications of computer technology and persons with disabilities.
Following Closing the Gap, DO-IT hosted an exhibit at numerous conferences including the annual Work Now and In the Future conference in Portland, Oregon, the Washington Science Teacher Association Convention in Spokane, Washington, the Northwest Council For Computer Education in Portland, Oregon, the National Science Teacher Association Convention in Orlando, Florida, and the annual AHEAD (Association for Higher Education and Disability) conference in Kansas City, Missouri. While much of our effort has taken place outside of Seattle, we've been busy at work locally and at the University of Washington as well. This year, DO-IT hosted exhibits and presentations at the UW Brain Awareness Week Conference, the Health Sciences Open House, the Engineering Open House and the UW Center on Technology and Disability Studies conference.
In addition to providing information and resources about access, technology and disability to educators, families, students and the general public, DO-IT strives to impact attitudes about people with disabilities in a positive way. DO-IT is full of success stories from all of you. Without you, we would not be able to DO-IT! These conferences are just highlights of the year, and represent a small sample of the many efforts of our Scholars, Ambassadors and Mentors involved in their own communities, paving the path for the future. Many thanks to all of you who have volunteered your time and energy to support DO-IT goals.