OurCS@AccessComputing+CREATE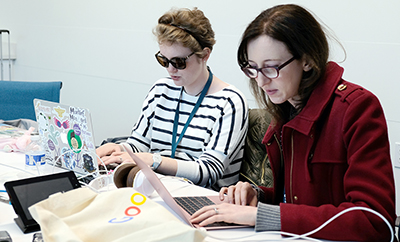 Photo from CS@UW+AccessComputing 2019.
OurCS@AccessComputing+CREATE is a research-focused workshop for undergraduates with disabilities in computing fields to be held virtually on Wednesday, January 13 through Friday, January 15, 2021, 9 am – 12 pm Pacific Standard Time (PST).
Students with disabilities nationwide in computing fields are eligible to apply. Students will participate in research explorations designed to inspire participants to consider research careers and meet mentors with disabilities.
Students who participate in the entire program will receive a $50 stipend. Funding for this workshop is provided by Google Explore CSR with additional support from AccessComputing and the UW Center for Research and Education on Accessible Technology and Experiences at UW (CREATE).
For full consideration, please apply now! Applications are still being accepted on a space available basis.