Paws on Science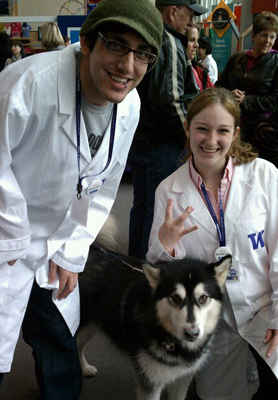 What happens when you mix science, the University of Washington, and Seattle together? Why, you get Paws on Science, of course! This annual spring event is an opportunity for UW scientists and researchers to come together at the Pacific Science Center and present current projects to the public. DO-IT's AccessSTEM project was invited to participate among the 30 research groups this year at the three-day event. The AccessSTEM table, titled "Any Student Can Learn Science," displayed accessible science equipment that included:
a talking reading pen
a Brailled geometric set with a spur wheel used to demonstrate the creation of tactile images
a talking color teller
liquid level indicators
a non-slip mat, and other tools
There were nearly 20,000 attendants, including 22 Sealth High School students with disabilities on an AccessSTEM-funded field trip. AccessSTEM's table visitors were enthusiastic to learn about the use of the accessible equipment, and DO-IT was excited for the opportunity to bring awareness to both the general public and research communities.