Promoting Accessible Informal STEM Learning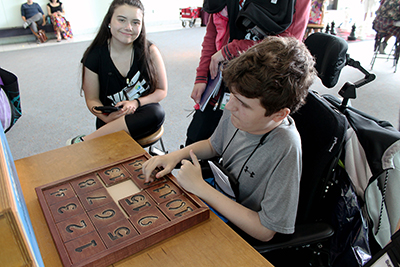 Learning about science, technology, engineering, and mathematics (STEM) can be a lot of fun, especially outside of traditional classroom settings at places like science centers, museums, summer camps, and visits to college campuses. These types of environments are often referred to as "informal STEM learning" (ISL) environments, and sometimes they are not accessible to individuals with disabilities.
On March 2-3, 2022, the NSF INCLUDES TAPDINTO-STEM Alliance partnered with Access to Informal STEM Learning (AccessISL) to host a national capacity building institute with over 70 stakeholders and representatives from ISL programs across the United States. Examples of participating institutions include the National Federation of the Blind; the Seattle Cultural Accessibility Consortium; the Riverside Art Museum; the UW Museology Program; the Pacific Science Center; the Museum of Science, Boston; the National Deaf Life Museum; the North Carolina Maritime Museum at Southport; and the Intrepid Sea, Air, and Space Museum.
The event included presentations from 24 speakers, who shared information and participated in lively discussions about improving access for everyone, with a variety of topics covered:
Universal Design and Access to Informal Learning Environments
Accessible Information Technology and Digital Engagement
Pre-Engagement, Neurodiversity, and Social Narrative Development
Direct Engagement of the Disability Community
Exploring Free Resources and Building Stakeholder Networks
Consider joining this effort by exploring the AccessISL and TAPDINTO-STEM websites and/or joining the AccessISL Community of Practice. Proceedings from the capacity building institute will be published soon online and shared through the Community of Practice.