Quorum 4.0 Released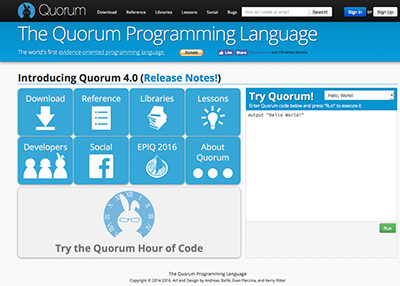 As part of the AccessCSForAll project that aims to increase the participation of students with disabilities in K-12 computing projects, Andreas Stefik continues to improve the Quorum programming language. Quorum is an evidence-based programming language that is accessible to users with a wide variety of disabilities, including individuals who are blind or low vision.
In July 2016, Quorum 4.0 was released. Two significant new features include support for 3D gaming and mobile devices. In addition, improvements were made to the development environment and existing libraries.
Learn more about Quorum at www.quorumlanguage.com/. Try your hand at programming with the Quorum Hour of Code tutorial at www.quorumlanguage.com/documents/hourofcode/part1.php.