Quorum Summer Camp at UW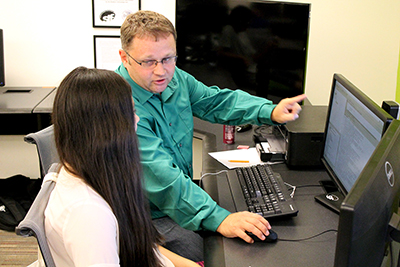 AccessCSForAll PI and assistant professor of computer science at the University of Nevada, Las Vegas Andreas Stefik came to Seattle last summer to lead a summer camp utilizing Quorum, the programming language that he developed. Held as part of the Computer Science and Engineering Department's Dawg Bytes summer camps, twelve campers learned how to program and design 3-D games in Quorum. The campers were taught different aspects of Quorum coding and then able to apply it in their games, all while getting feedback from instructors and teaching assistants. At the end of the week-long program, campers demonstrated the games to each other and their parents.
As a result of the experience with campers, Stefik will continue to develop tools and resources for the Quorum programming language. Quorum is designed to be accessible to individuals with disabilities, which makes it unique amongst most programming tools used in K-12 settings.