Remembering Disability Leader Toby Olson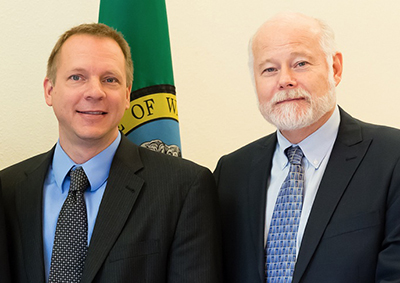 DO-IT was sad to learn about the sudden passing of Toby Olson, the Executive Secretary of the Washington State Governor's Committee on Disability Issues and Employment.
A press release from the State of Washington shared, "In his 31 years of state service, Olson wrote, co-authored, and secured passage and enactment of more than 40 state laws expanding the rights and opportunities for people with disabilities in such areas as employment, civil rights, education, housing, transportation and healthcare."
Toby worked tirelessly to encourage public dialogue about disability issues and challenge faulty assumptions about the talent and value of people with disabilities. Toby's work also impacted many in the DO-IT community. For example, he oversaw the Governor Committee's Youth Leadership Forum (YLF), in which many DO-IT participants have engaged as delegates, interns, presenters, and members of the planning committee over the last 18 years. YLF students serve as delegates from their communities at a six-day camp each summer. They build leadership and self-advocacy skills as they learn about community involvement, governance, and career preparation. Tami Tidwell (DO-IT Program Coordinator/Counselor), K Wheeler ('13 Scholar), and Brandon Muller ('01 Scholar) served on the YLF leadership team. Julie Peddy (DO-IT Advisory Board Member), has served as chair of the YLF subcommittee.
Additional DO-IT staff and students have volunteered and served in programs under Toby's leadership. Conrad Reynoldsen ('03 Scholar), and Scott Bellman (DO-IT Program Manager) have served as chairs of the Governor's Awards Subcommittee- a group that recognizes employers for the successful hiring, retention, and promoting of individuals with Disabilities. Daman Wandke ('05 Scholar) served as an appointed member of the Governor's Committee and served on multiple subcommittees.
Toby will be truly missed, but his legacy will live on in those he inspired to make the world more welcoming and accessible to individuals with disabilities.