Resume Tips and Contest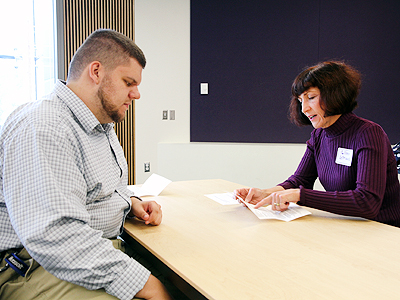 During Summer Study 2014, Joeseph S. worked with professionals practicing interview techniques and other skills for getting a job or internship.
Throughout the year, AccessSTEM Team members hear about scholarships, internships, and other work-based learning opportunities through the discussion list at accessstem@uw.edu. This winter, one of those opportunities was a resume contest. Over sixty AccessSTEM Team Members submitted their resumes. All the resumes submitted were fantastic. Eleven lucky Team Members were chosen for prizes!
Team members can send their resumes to AccessSTEM staff for review or assistance any time of the year. We often get questions about what makes a good resume, so here are a few tips to make your resume stand out.
Keep a master resume containing every work-related experience with contact information for all supervisors/managers. However, for each opportunity, create a resume with only experience and skills relevant to the job posting. Highlight what makes you perfect for the job.
Rather than including an objective statement or reference list on your resume, devote more space to experiences related to the job you're applying for and list your qualifications, skills, and accomplishments.
Use the same key words found in a job posting on your resume. Mirroring this language makes it very easy for a recruiter or manager to conclude that you are a good fit for the position.
Sell the benefits of your skills. Use engaging language that catches the reader's attention. For example, instead of "Types 80 wpm," write "Achieved top production volume by maintaining high degree of accuracy with typing a speed of 80 wpm."
They say a manager or recruiter only spends 30 seconds per resume—readability, easy organization, and only one or two simple, consistent fonts are important for getting your information across.
Include programs like AccessSTEM CAREERS and AccessComputing on your resume to show that you are engaged in a nationwide program.
Have someone else edit your resume before you submit it. Make sure that it is free of typos and well formatted.
Title your document with your full name. Nine out of ten resumes submitted to the contest did not include the student's full name, and three out of ten didn't include any name or initials at all.
Be sure your name and contact information appears on every page.
If you save your resume as a PDF file, remember to tag headings and format it in an accessible manner so anyone can read it. More information on accessible PDF files can be found at www.uw.edu/doit/pdf-accessible.
For more information on getting ready for a career, consult Preparing for a Career: An Online Tutorial at www.uw.edu/doit/preparing-career-online-tutorial. You can also visit your campus career center in person or online for more tips on how to craft your resume.
Winners of this year's resume contest were
Kiara, for a well organized resume that clearly highlights her education, work experience, key skills, and awards.
Neha, for a perfectly formatted resume.
Lourdes, for a brief CV that still highlights all of her experience and qualifications in two concise pages.
Patrick for an eye catching resume.
Joseph and Deborah, for including AccessSTEM or DO-IT engagement on their resume.
Andrew, for summarizing his summer internship projects.
Zhengqi, for highlighting work he did on campus, demonstrating how he can balance work, school, and other activities.
Jon and Caitlyn, for keeping comprehensive CVs that are still easy to navigate and digest.
Erica, for highlighting the skills she took away from past work experiences that she would like to continue to pursue.
Mihir, for making the most of a brief work history and articulately summarizing skills that future employers might look for.