Robots and Sound Studied in Engineering Labs (AccessComputing News - Jan 2010)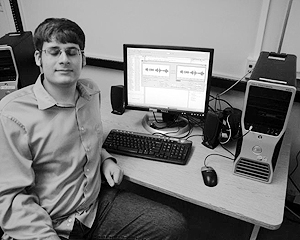 Student using a computer.
In fall 2009, seven students with disabilities came to the University of Washington's College of Engineering to attend learning labs. The five high school and two college students met with graduate students and the Associate Dean to learn about different kinds of signal processing. Students split into two groups to complete one of two laboratory experiments:
One of the labs, "Sounds You Can See," allowed the students to work on powerful data-crunching computers in the Electrical Engineering department. The students learned how computers process sound and how to recognize sound patterns through the use of visual graphs. Students manipulated different sounds to create unique soundbites.
The second lab, "Understanding Robot Movement," required students to upload data to underwater robots and make observations about their movements. The robots helped students understand how aquatic creatures move through water.
Check the campus calendar at local schools to find out about events of interest to you. Watch for open houses and other activities that are open to the public.