Rocketing to the Future (AccessComputing News Feb 2009)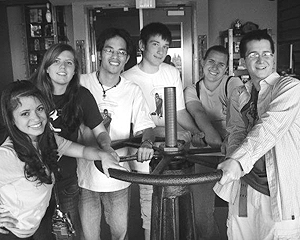 Group picture of students at Valve.
The Summer Academy for Advancing Deaf and Hard of Hearing in Computing, an AccessComputing program now entering its third year, has had a profound impact on high school senior Daniel Steed. Upon entering the Summer Academy in June 2008, Daniel, who is deaf and also has Tourette's syndrome, wanted to major in computer engineering, aerospace engineering, and mechanical engineering, as well as attend college in his home state of California.
While attending the Summer Academy at the UW, Daniel took courses in computer programming and animation; met guest speakers who worked at Google, Oracle, Microsoft, IBM, CSDVRS, and Cray who were themselves deaf or hard of hearing; and participated in field trips to Boeing, Google, Adobe, Microsoft, and Valve.
By the end of the summer, Daniel knew that he wanted focus his major in computer science and continue his interest in rocketry from a computer science framework. Additionally, after meeting and communicating with other deaf and hard of hearing students, he decided to apply to the National Technical Institute of the Deaf at Rochester Institute of Technology (RIT).
In December, we heard from Daniel, who said, "Thanks to this program, my life is wonderful. I got a temporary job that will be using skills I learned in classes in the summer...15 bucks per hour whoo!!!" Just a few days later, Daniel was excited to tell us that he not only was accepted to RIT, but also received two scholarships! We are very proud of Daniel and his accomplishments.
AccessComputing Summer Academy for Advancing Deaf and Hard of Hearing in Computing is now accepting applications for 2009. For more information visit www.uw.edu/accesscomputing/dhh/academy.