Scholar Profile: Melissa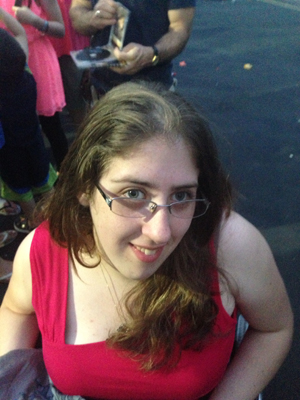 My name is Melissa Niklason. I started out as a DO-IT Scholar in 2009. The people I've met through this program and opportunities I have been given are more than I could have ever hoped for!
My road through education has been long, but it is also one that I would not change. After graduating from Woodinville High School in 2009, it took me a little over two years to complete my associates degree from Cascadia Community College. In March 2012, I started at Central Washington University in Ellensburg, Washington as an English/language arts teaching major, and I am set to graduate with my bachelor's degree in December 2014. It is my goal to one day teach English or language arts at the 6th or 7th grade level.
The DO-IT community has helped me both personally and professionally. Last year, around March 2013, Tami Tidwell sent me an email about available summer school teaching assistant positions through the Robinson Center for Young Scholars at the UW. I immediately jumped at the chance and was accepted as a teaching assistant for the 7th grade essay writing class. Mike, the teacher I worked with, had me teaching weekly lessons. I had never done it before, and I realized it was a skill that I was not particularly good at yet. I'm the type of person who overthinks and is constantly afraid that I will mess up, and that showed in my teaching. Mike said that the more nervous I felt, the more I should project that as excitement to my students. If it looks like I'm having fun then the students will have more fun. Working with everyone at the Robinson Center made me realize that I still have a lot to learn, and it reignited my passion to do just that.
If it wasn't for all the supportive people in my life, the DO-IT community included, I might not have gone on the biggest adventure of my life. I spent Fall quarter 2013 studying abroad in Dundee, Scotland, and it was one of the most challenging and rewarding experiences ever. For one thing, Dundee is not the most wheelchair-friendly city; the sidewalks are a mix of flat concrete and cobblestones. During my first full day there, I hit a crack in the sidewalk and tipped over in my chair. One of the many people who came over to help told me that I was now a true Dundonian. What a way to be welcomed to this wonderful city! Over the next three months, I met wonderful people from all around the world, saw the home of Mary, Queen of Scots, and even envisioned myself on a quest with King Arthur and his knights. I learned a lot about myself as well as about the people and the culture around me. I always knew that I wanted to teach, but now I would love to combine my passion for teaching with my newfound love of travel. Who knows- Someday I could be back in Dundee, teaching at the school I passed by countless times. The opportunities that I have before me are endless; the hard part is going to be choosing which one will be right for me.
If there is one thing that I have learned in all of my experiences, it's that the reward is so much greater than the risk. If I had let fear of new places rule my decisions, I would not have a more definitive vision on what I want to do in my life. I might have given up as soon as I found out that I needed to improve my teaching style. The hardest things in life are always the most worthwhile, and I can't wait to see where I will go next!
More information about the DO-IT Scholars program can be found at www.washington.edu/doit/programs/do-it-scholars/overview.