Service Dogs and Independence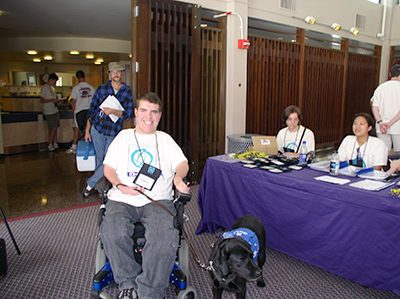 There are a lot of different reasons people might choose to have a guide or service dog. Emily Stevenson, 2011 Scholar, wanted a guide dog to gain more independence. "I hated being reliant on other people when I needed to get somewhere unfamiliar. Having a guide dog has boosted my confidence, because I know I can put some of the decisions, such as when to turn, in her very capable paws. Even when I make a mistake, I have someone there to help me turn back in the right direction."
Emily's biggest piece of advice for someone who wants to get a service animal is to remember that when you take on the responsibility of an animal, you are taking care of another living creature, not just another piece of equipment. "I personally learned this the hard way. I got my guide dog, Henna, in the middle of college. So, on top of trying to get my engineering degree, I had to care for another living creature who can also get sick or need food at a particular time. Keeping all of that in mind, please make sure you are truly prepared for all that entails."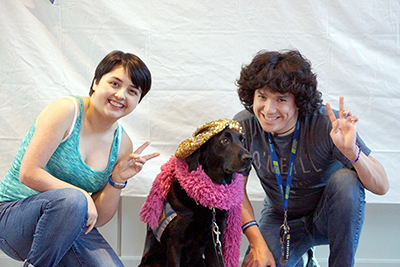 Naomi Smith, 2016 Scholar, wanted a service dog to both be a best friend and offer assistance. She says, "I have right-handed hemiparesis and epilepsy. This basically means my right side is weaker than my left and I have an assortment of learning disabilities. My service dog, Libby helps out with basic needs around the house like laundry, lights, and doors. Though she was not trained to, she helps me balance and tries to warn me if I am about to have a seizure.
Having Libby had an impact on Naomi's life in many ways. "I became confident and assertive in my everyday life, which translated into advocating for myself instead of relying on my parent's voices. When people don't believe I have a real service dog, or that I need one, I have to stand up for Libby and myself to explain she needs to be with me. This forced me out of my shell. However, service dogs also come with a lot of responsibility. I would advise anyone that is thinking of getting a service dog to be prepared. You are now responsible for your dog and yourself. You are now a team."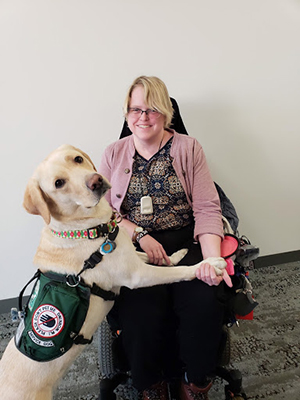 Chanon Gallow, 1999 Scholar, wanted a service dog to help her get outside and also have confidence and feel assertive. However, she quickly realized that applying for and receiving a service dog is a lengthy process. The whole process may be completed within a year, but can often take much longer. For Chanon, it took over ten years. She requested a dog in 1999, but was only approved by Paws with a Cause in 2009, and she still needed $20,000 in sponsorship. In 2011, she was finally connected with two local benefactors, including her mayor and the former high school history teacher, to provide the funds to get Jersey, her service dog.
Brianna Vail, 2008 Scholar, wanted a service dog to give her the independence and the ability to move out on her own. Her service dog, Mabel, is able to do most of the things that she would need to ask another person to do. Her parents also enjoy the peace of mind that Mabel can get the phone in an emergency. "I feel that I have learned to be more relaxed and to go with the flow. I also get excited when Mabel and I can do demos for the community."
Whatever the reason you might be thinking of for getting a service dog, it is important to consider how well you are prepared for both the application process and caring for an animal. In the end though, the work put in is more worth it for the independence granted.