SIGCSE 2019 Trip Report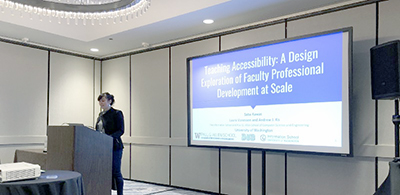 The day I travel to a conference is usually one of eager anticipation. I love the rising energy as we approach the first day of a conference and the sense of connection on the way to a destination. And when I arrive, the payoff: I get to reconnect with many old friends, meet the next generation of scholars who will shape our field, and develop the ideas I might work on in the coming years. Especially for a conference celebrating its 50th anniversary, Special Interest Group on Computer Science Education (SIGCSE) was likely to be quite the party of reminiscing on big ideas and important people and forging new foundation for the next 50 years.
The first event I attended was a half day workshop I co-organized with Richard Ladner on how to integrate accessibility topics into higher education computing courses. Nearly 50 people attended, with about half already teaching some aspect of accessibility in their courses. Some attendees were experts on accessibility but not at all experienced with teaching accessibility. Others were the opposite, struggling to teach accessibility without much expertise in it.
We organized a series of speakers with experience teaching accessibility, and they shared an incredible diversity of integration points, including introductory courses with topical sections, aspects of web development courses, and accessibility capstones. I had planned on speaking about how we've integrated accessibility through our informatics curriculum in our introductory, ethics, web development, and database courses, as well as in numerous electives, but we ran out of time for my presentation.
Interestingly, most people who were teaching accessibility had the autonomy to integrate it. It was very rarely mandated from the top down, nor did leadership prevent anyone from teaching about it. In fact, some people had entire courses dedicated to accessibility! And at the core of most of these stories, it was because the teacher was personally passionate around integrating accessibility topics in their course.
I think the biggest impact of the workshop was giving everyone a sense of not being alone in their efforts to teach accessibility. Many people shared in rich discussions about pedagogical changes teaching accessibility. Another big impact was giving people a sense of growth: if we're not alone, then we can do bigger things together. And we shall!
You can see a summary of presentations and links to slides from proceedings from the event online.
On Thursday, I presented our work on teaching explicit programming strategies, which is the idea of providing step-by-step procedures for solving various programming problems like debugging, reuse, and testing. We tried teaching these in a summer CS class to adolescents. Our results showed that students found them useful, but that most just couldn't force themselves to slow down and follow the steps. Those that did, however, were much more successful than those that didn't at independently writing programs. I speculated that one challenge could be that most adolescents don't have sufficiently developed executive functioning to regulate their process so strictly. One question that came up was particularly interesting: how much does confidence interact with students' use of the strategies? I shared some anecdotes that would suggest that not using the strategies was related to overconfidence. Students who lacked confidence tended to rely more on the strategies, because they were less sure about how to succeed. I wonder if they were more successful as a result!
On Saturday, another paper of mine was presented. Saba Kawas, who was the lead author of the work, shared our effort exploring how to educate higher education faculty on how to teach about accessibility in their CS courses. We were exploring the idea of how to provide "micro" professional development by creating a mapping between CS learning objectives and accessibility learning objectives, then linking examples of learning materials for each of these mappings. We made a tool that let CS teachers find those objectives and quickly connecting them to relevant material. However, our goal was not to build the tool, but to build enough of a prototype to assess whether such a tool would actually help. Our results showed that some faculty felt they could use the content immediately; others still faced personal, organizational, or structural barriers to incorporating accessibility topics into their courses. Nevertheless, our evidence suggested that investing in creating such online materials could have a lot of impact if adequately marketed.
I'm excited to see everyone I missed next year in my home town of Portland, Oregon! Read my full blog post on SIGCSE 2019 online.