Staff Profile: Penny Hinke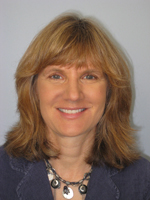 DO-IT Staff member Penny Hinke
"Hiya!" as they say in Manchester (England, that is. A recent newcomer to Seattle, I've been bemused by all the English place names in Washington.) My name is Penny Hinke. I've been working for DO-IT for about a year now, primarily as an academic coach. I work one-on-one with college students who have a disability to help them develop strategies that will enable them to achieve their goals and succeed at college, faster and more effectively than if they were on their own.
A Midwesterner by birth and temperament, I never imagined that one day I'd be living in the Pacific Northwest, but now that I'm here, I think I'll stay! I was born in Colby, Wisconsin and received both my bachelor's and master's degree from the University of Wisconsin-Madison (the other UW). As an undergraduate, one of my goals was to become fluent in French, so I applied for the junior year abroad program and lived in Aix-en-Provence in southern France for nine months (I know—a tough assignment, but someone had to do it!). I'd encourage anyone who has the opportunity to study abroad to take it. It was a life-changing experience!
After college, I moved to Minneapolis, Minnesota, where I worked as a publications editor for several years before moving to Manchester, England with my husband and our two-year old son in 1994. It was while I was living in England that I embarked on my present career path. I worked as a study coach for students with disabilities at the University of Manchester for ten years.
A year ago, after living in England for 16 years, my husband and I moved back to the US, in part to be closer to our son, who had just begun his studies at the University of Michigan, Ann Arbor.
Making the transition from Manchester to Seattle hasn't been too difficult, thanks in part to all those years in England. Unlike most newcomers to the region, I'm not inclined to moan about the weather. What's to moan about? At least we have real summers here! My experience in England has given me other valuable survival skills as well, such as a deep appreciation for the therapeutic value of a cup of tea and the ability to detect irony in humor.
These days, when I'm not working, I can be found training for the Rock 'n Roll half marathon, practicing the piano for an upcoming piano recital, or choosing paint colors for our newly remodeled basement.
Working for DO-IT has allowed me to combine my passion for helping people reach their potential, academic and otherwise, with my preference for working in higher education. Thank you, DO-IT, for giving me this opportunity!