Summer Camps '97: What Did DO-IT Campers Do?
DO-IT hosts programs at existing camps for children and youth with disabilities. At Camp Courage, Minnesota, DO-IT teaches a 10-day program on Internet use, college preparation, studies in careers, science, engineering, mathematics, and technology. At other camps, DO-IT offers Internet, science, and college preview experiences for campers. After their DO-IT Camper experience, many participants become DO-IT Pals, where they continue to communicate with each other and with the DO-IT Mentors on the Internet. Contact the DO- IT office or home page for more information about DO-IT at Camp or DO-IT Pals program. Below, one DO-IT Camper shares her experiences at Camp Courage.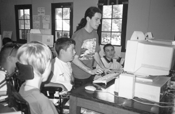 DO-IT Intern, CJ, demonstrates Internet techniques to a rapt audience at MDA Camp Waskowitz.
DO-IT Did It at Camp Courage
by Tashauna
My name is Tashauna. I am 15 years-old and I will be a sophomore in high school this fall. My disability is arthrogryposis. It's like muscular dystrophy. I really enjoyed working with the Internet and sending email to all of my awesome counselors. Some of the things that we got to do at Camp Courage included: establishing new e-mail accounts, exploring the Internet, and visiting St. Cloud University. A professor came to talk to us about talking to college professors about adaptations in the college classroom.
My favorite thing at camp was writing to people through e-mail who also have disabilities. The new information that I learned at camp will allow me to carry over to my e-mail work at home on my computer. I strongly urge any teen who has a disability and a love for computers to come and enjoy the Camp Courage atmosphere.